Updating to MHUB-OS 8.0
If you have received a notification in uControl or by email that an update is available for your MHUB then follow these steps to update your system.
To update your MHUB to MHUB-OS 8: HDANYWHERE recommends that you use uControl.
Updating via uControl
If your version of uControl updates to version 2 automatically, any previous connection to your MHUB will be reset. This is normal and part of the update process.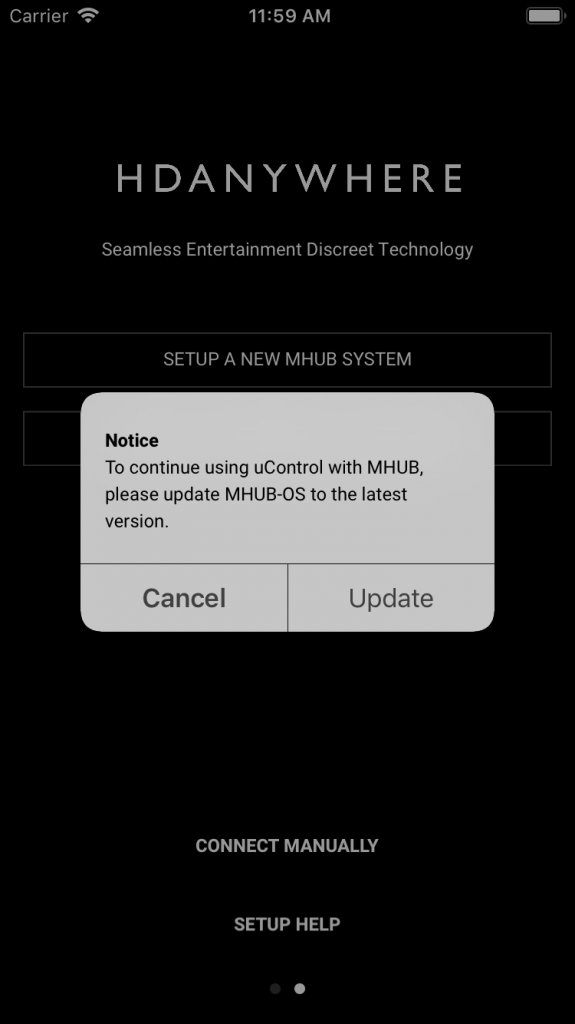 Follow the instructions within the app to connect back to your system. During this process uControl will check MHUB(s) to see if they also require updating. At that point you will be presented with two options:
If you are setting up a new MHUB system
This is likely to happen if you have recently bought MHUB and it was shipped to you on older software. You will run through the following steps:
Click 'Setup a new MHUB system', uControl will scan your network for any MHUB systems
Select your MHUB device
Connect to your MHUB
Perform first boot process which may or may not include update depending on the MHUB-OS version installed before it shipped to you.
Watch a video of it here:
Connecting to an existing system
The majority of MHUB customers will be on MHUB-OS 7 and their systems will contain user data which needs updating to the latest version. If this is you then follow these steps.
Click 'Connect to an exisiting MHUB system', uControl will scan your network for any MHUB systems
Select your MHUB device
Connect to your MHUB
uControl will show popup message that MHUB-OS requires updating, click 'update' and follow on screen prompts