Search by Support Category:
Voice Control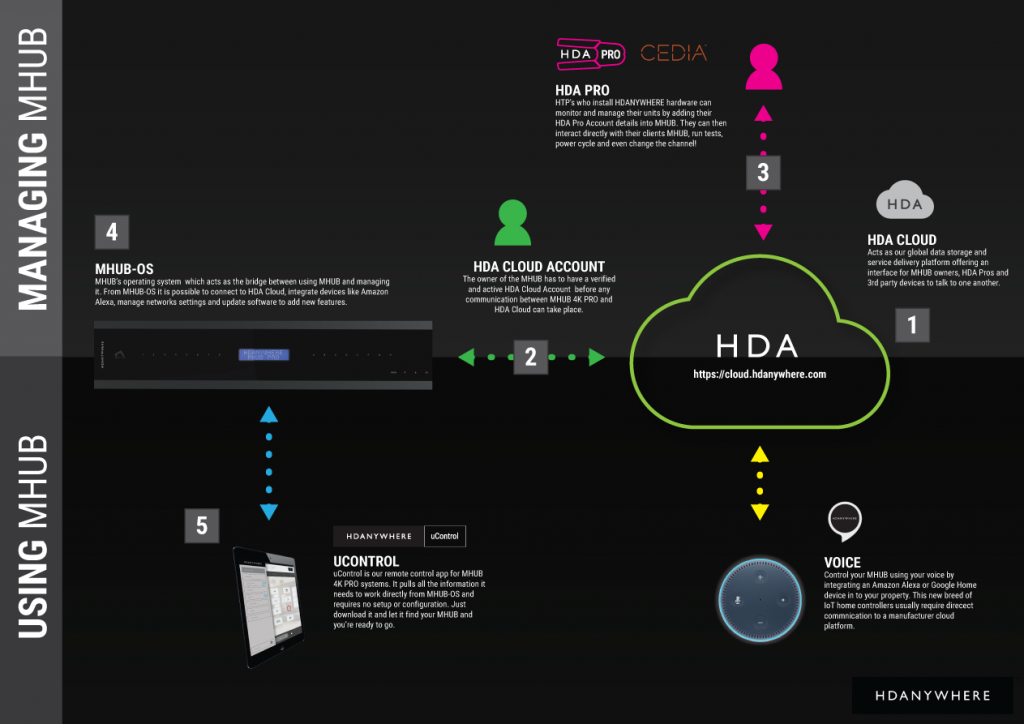 1. HDA Cloud
The HDA Cloud acts as our global data storage and service delivery platform offering an interface for MHUB owners, HDA Pro's and 3rd party devices to talk to one another.
There are two types of cloud account that can be associated with an MHUB system.


2. HDA Cloud Account
The HDANYWHERE (HDA) Cloud account is the account that belongs to the Homeowner and/or End-User. The owner of the MHUB has to have a verified HDA Cloud account before any communication between MHUB systems and the HDA Cloud can take place.
Registering the MHUB system provides numerous benefits including:
Extending the warranty period on the system by 1 year (must be registered within 30 days of purchase, Warranty is non-transferable)
Enables advanced functions for things like voice control, uControl, integration with other IoT devices and Sequences
Provide advanced troubleshooting information to your HDA Pro installer and HDA
Provide your HDA Pro installer permission to remotely manage your system, they can then modify your system for you without physically being there
3. HDA Pro Account
The HDA Pro account can not be added to a unit unless a HDA Cloud account (outlined above) is present first. This account authorises the installer to monitor the MHUB on their customer's (the homeowner) behalf. This account sits alongside the Cloud account and gives a 3rd party access to the MHUB's data and the ability to control it. HDA Pro's can register Here
The following Settings can be managed remotely:
Source Routing (and switching)
Edid management
uControl sequence configuration
uControl IR pack configuration
Power management

You can also monitor the following:

IP configuration
Temperature
Firmware (MHUB-OS, and MHUB)

IMPORTANT: a HDA Pro Account has to be created first Here and authorised by HDA staff before the installer can use their account details to enable monitoring on the MHUB.
MHUB's operating system which acts as the bridge between using MHUB and managing it. From MHUB-OS it is possible to connect to HDA Cloud, integrate devices like Amazon Alexa, manage network settings and update software to add new features.
uControl is our remote control app for MHUB 4K PRO systems. It pulls all the information it needs to work directly from MHUB-OS and requires no setup or configuration. Just download it and let it find your MHUB and you're ready to go.
Setting up the MHUB 4K PRO Control / MHUB 4K PRO Smarthome Skill on the Alexa app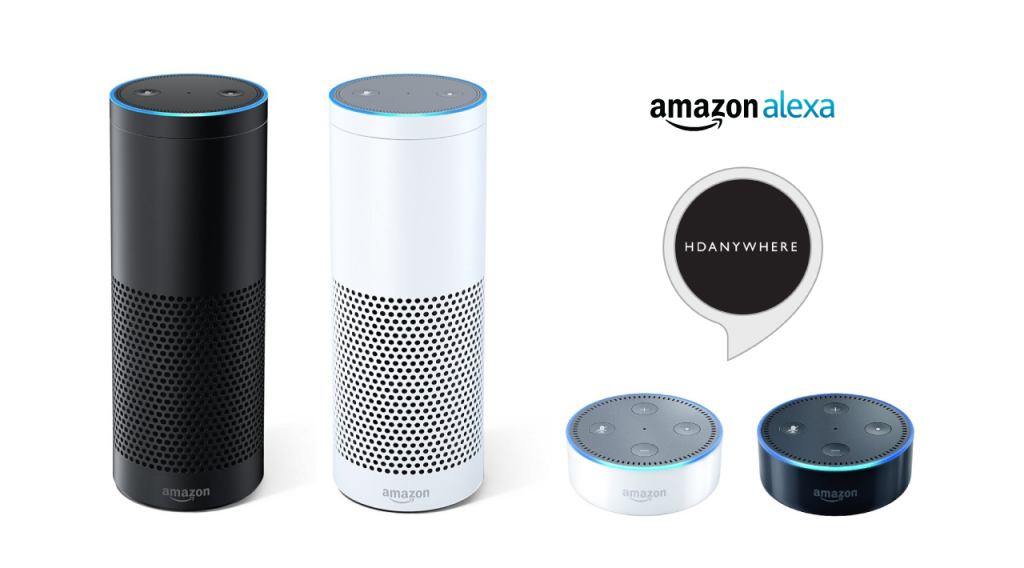 We are assuming that you have already downloaded the Amazon Alexa app and have a functioning Amazon account.
Skill types:
There are two types of skill which you can enable on the Alexa app.
Custom Skill
With a Custom Skill we have full control over the voice interaction (a voice interaction is the communication you have with an ECHO device when speaking a command and also includes the response given by the ECHO) between you and your Echo device, this allows for a greater range of voice commands including playhead, change channel, switch sources, increase/decrease volume.Click here to view a the full range of voice commands.
Smarthome Skill
The Smarthome skill differs from the custom skill in a couple of ways. Firstly, invoking a smarthome skill is fixed and defined by Amazon, this also applies to the voice interaction. We currently support on/off commands, allowing you to perform actions quickly by uttering "Alexa, turn on TV" or a custom label like "Alexa, turn on movies".
You can of course, use both. They are FREE!
What you need to get your MHUB to respond to voice commands:
You have completed the first-boot procedure within MHUB-OS
You have MHUB-OS version 7.0 or higher installed on your MHUB
You have an active HDA Cloud account
You have downloaded uControl packs for all displays and source devices you want to control
You have an active Amazon account
You have an Amazon Alexa enabled device, such as Amazon Dot/Echo/Show
Linking the custom skill "MHUB 4K PRO Control"
Go to the Skills section on the Alexa app and search for "MHUB 4K PRO Control"
Click on the skill and select "Enable"
Click "Link Account" – when you do this, you will be redirected to HDA Cloud's secure login page. Enter your username and password in to the fields.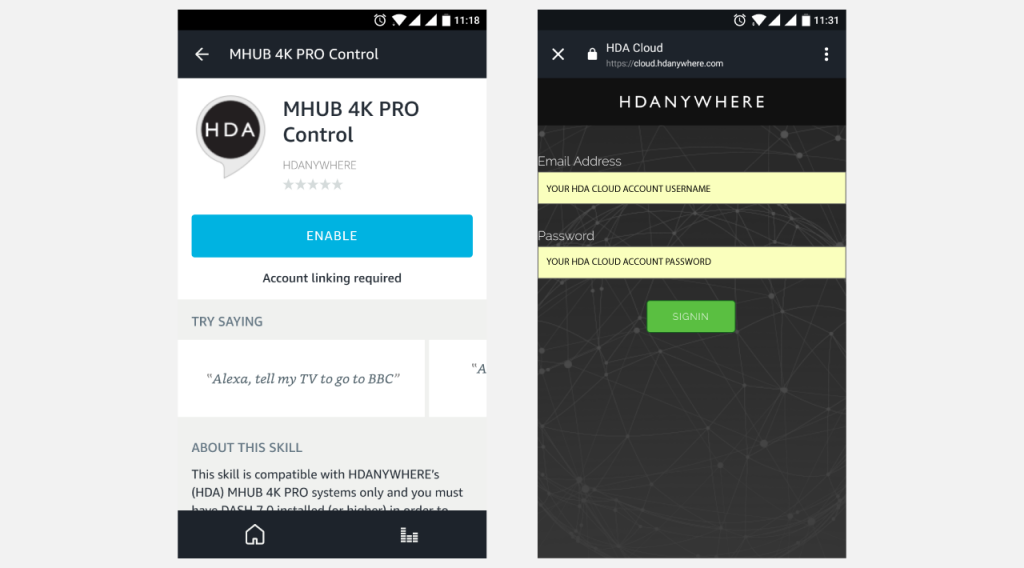 Linking the smarthome skill "MHUB 4K PRO Smarthome"
Go to the Skills section on the Alexa app and search for "MHUB 4K PRO Control"
Click on the skill and select "Enable"
Click "Link Account" – when you do this, you will be redirected to HDA Cloud's secure login page. Enter your username and password into the fields.
After the account has been linked, visit the "Smart Home" screen then navigate to the 'Manage devices in Smart Home' then Devices. Next click 'Discover'.
This action will communicate with MHUB and pull any devices making them ready to use.
Configure voice commands to do exactly what you want
Let's take the command "Alexa, tell my TV to watch football" as an example.
It might appear like a very simple command but there are a number of things that need to happen in order to watch football! First the TV might need to turn on, but in which room? The volume might need to be set to a desired limit. The correct source input might need to be selected on MHUB and finally that source will need to navigate to the channel hosting the football.
You can configure all those actions in what we call a "Sequence".
Taking the example above:
Alexa (this wakes up your Amazon Dot/Echo/Show)
tell my TV to… (this invokes HDA's custom skill)
watch (this is a special function which tells MHUB to start a Sequence)
football (this is your custom name for the Sequence, it can be anything you want)
Inside MHUB-OS we can configure exactly what "football" does.
You can select if you want MHUB to turn your TV on and adjust the volume
You can tell MHUB to switch to the source device with has the football on it
You can instruct MHUB to change the channel on that source device
Read more about Sequences and Scheduling.
Here's a table of all the commands you can tell your MHUB to do…
Now you're ready to go. Take a look at a full list of commands that you can say to your Echo.