Search by Support Category:
General articles
Zones define a physical space in a property where outputs from MHUB terminate.
A Zone can include a maximum of 1 video output and a maximum of 4 audio outputs. For example, you can create a zone called "Kitchen" and assign 1 video and 1 audio output to it to provide you with viewable TV and sound. A Zone must contain at least 1 output from an MHUB for it to be addressable for control. Note: outputs can not be shared or split to more than 1 Zone.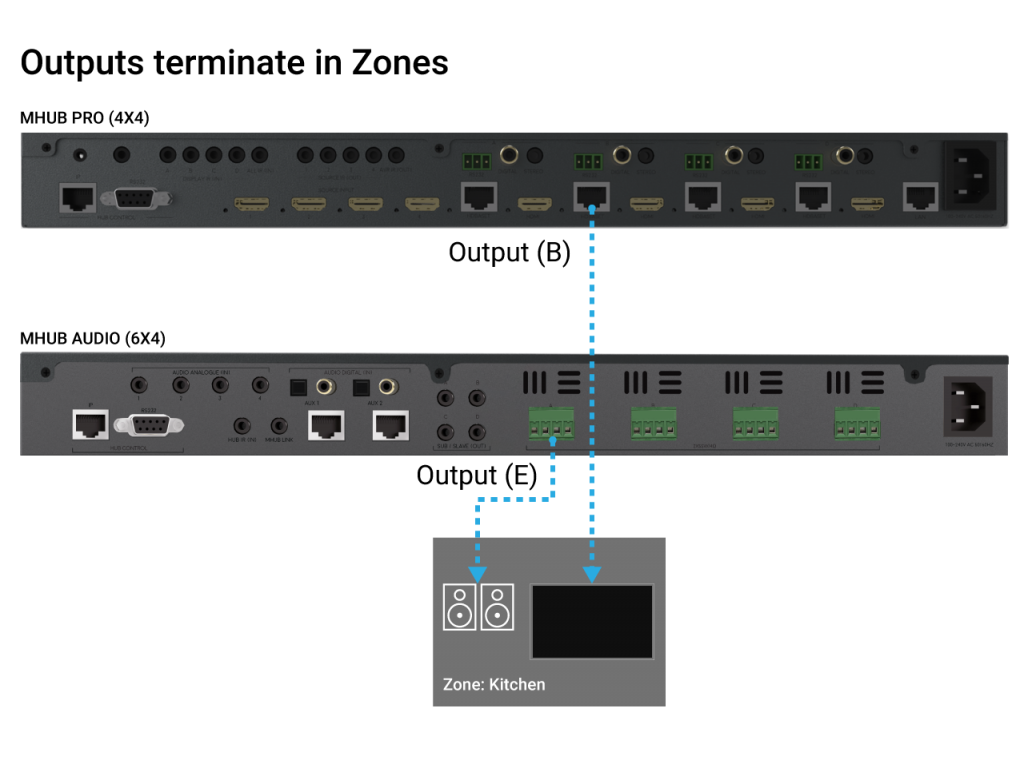 The first boot process for MHUB-OS has remained largely unchanged with the exception of zones.
The slideshow below walks you through the steps within MHUB's first boot process and how to setup zones to refect the different rooms or areas within you property.
You should be able to complete the process in under 10 minutes.
MHUB-OS first boot steps are as follows:
EULA and Privacy policy
Check for recent MHUB-OS updates
Name your MHUB
Name your source devices
Create zones
Assign outputs to zones
Confirm zones
Connect MHUB to HDA Cloud
Complete setup
HDANYWHERE(HDA) recommends that every MHUB install goes through its first boot process to ensure that the MHUB is setup correctly.
How long does the process take to complete
If you have an update to install then then first boot usually take about 10 minutes. If there is no update you can normally finish the entire process and have an operational MHUB system well within 5-7 minutes.
Yes. You do not need to access MHUB-OS if you don't want to. But this is only recommended if you intend to control you MHUB via a control system. You will also miss the opportunity to increase your warranty period and open your MHUB to additional features or services.
I don't want to use MHUB-OS or go through the first boot process, will MHUB work like a normal?
Yes. You do not need to access MHUB-OS if you don't want to. But this is only recommended if you intend to control you MHUB via a control system. You will also miss the opportunity to increase your warranty period and open your MHUB to additional features or services.
I made a mistake in the first boot process, can I go back or make a change?
Yes. You can go all the way back to the update step and correct any incorrect information you entered. Alternatively, you can also access MHUB-OS (after you have completed first boot) and change anything then.
If you have received a notification in uControl or by email that an update is available for your MHUB-OS then follow these steps to update your system. All updates are now handled by uControl. Please ensure you have installed the latest version.
If you have not connected to your MHUB before, please follow this guide first – Connecting to a MHUB
If you have received a notification in uControl or by email that an update is available for your MHUB then chose the correct option below:
Updating to MHUB-OS 8.00
If your version of uControl updates to version 2 automatically, any previous connection to your MHUB will be reset. This is normal and part of the update process.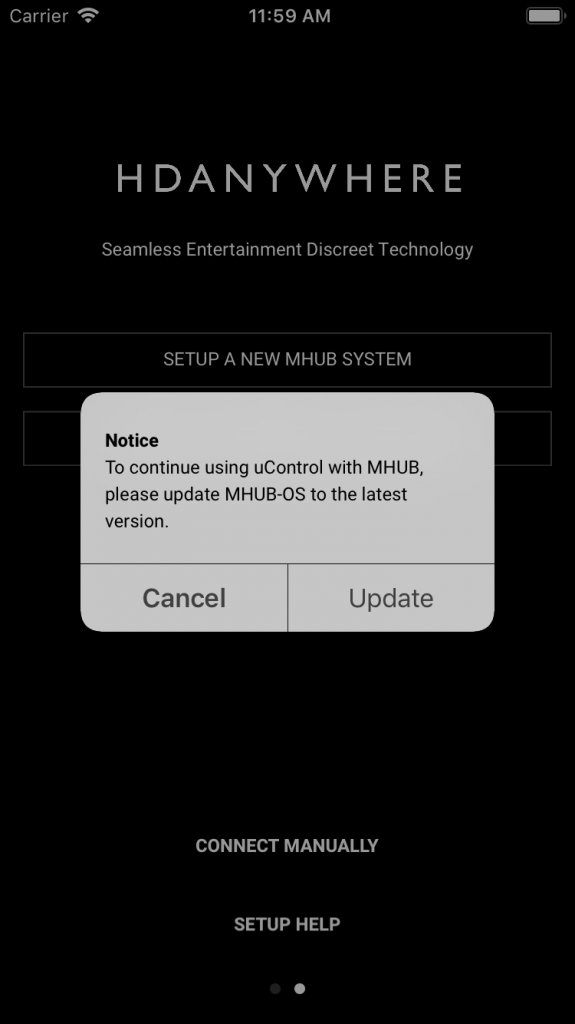 Follow the instructions within the app to connect back to your system. During this process uControl will check MHUB(s) to see if they also require updating. At that point you will be presented with two options:
If you are setting up a new MHUB system
This is likely to happen if you have recently bought MHUB and it was shipped to you on older software. You will run through the following steps:
Click 'Setup a new MHUB system', uControl will scan your network for any MHUB systems
Select your MHUB device
Connect to your MHUB
Perform first boot process which may or may not include update depending on the MHUB-OS version installed before it shipped to you.
Watch a video of it here:
Connecting to an existing system
The majority of MHUB customers will be on MHUB-OS 7 and their systems will contain user data which needs updating to the latest version. If this is you then follow these steps.
Click 'Connect to an exisiting MHUB system', uControl will scan your network for any MHUB systems
Select your MHUB device
Connect to your MHUB
uControl will show popup message that MHUB-OS requires updating, click 'update' and follow on screen prompts
Updating an existing system
Open the uControl app
Visit the settings page in the uControl app and click on the "ADVANCED", then select "FORCE MHUB UPDATE"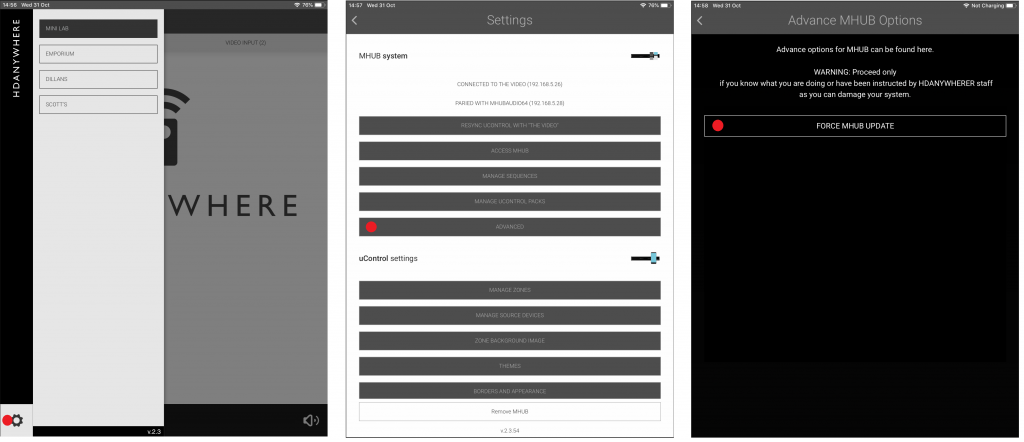 You will then shown the update screen as shown below. Once the update is complete you will be taken back to the uControl interface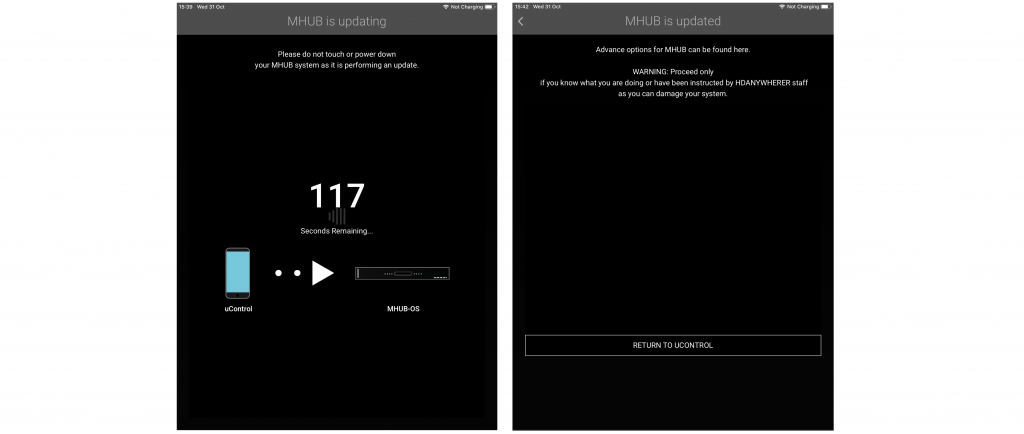 Updating an New system
When connecting to a MHUB for the first time, uControl will check if it requires updating. If there is an update available, it will be applied as part of the configuration process, and these screens will be displayed.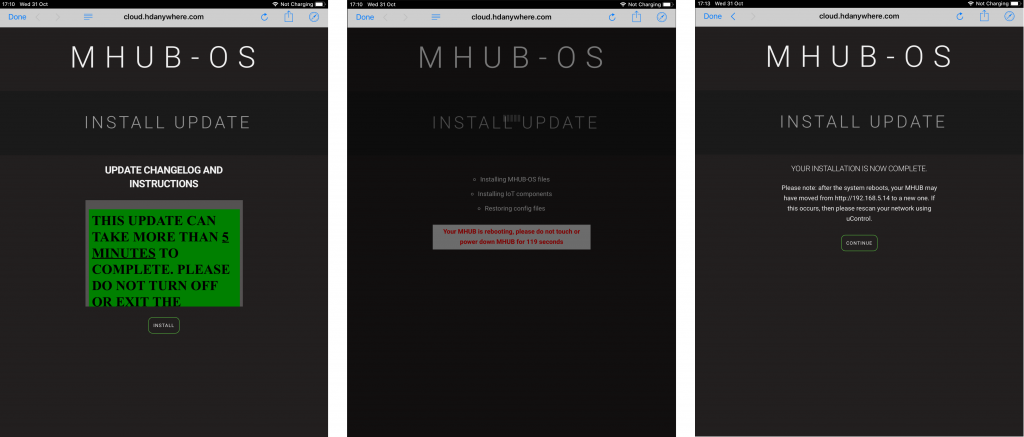 Having trouble updating your MHUB, check here -Update Troubleshooting
Make sure MHUB is connected up correctly before starting the first boot process on MHUB-OS
HDANYWHERE(HDA) recommends that every MHUB install goes through its first boot process to ensure that the MHUB is setup correctly. Please follow the quick start guide (inside MHUB packaging) to make sure your MHUB is connected correctly to your source devices, displays and has an active network connection before proceeding.
I don't want to use MHUB-OS or go through the first boot process, will MHUB work like a normal matrix?
Yes. You do not need to access MHUB-OS if you don't want to. MHUB will work distributing video as normal and will be controllable using the included remote controls. Please note that you will not be able to access advanced features such as voice control, the uControl app or build Sequences.
Accessing MHUB-OS (MOS)
There are two ways to access MOS:
Download our app, uControl, from the iOS or Google Play Store and let it find MHUB (and run you through the first boot) for you
Go to your MHUB and press and hold the "MENU" button for 5 seconds to reveal its IP address. Make a note of it then put that address in to any web browser on the same network. You will be forwarded to the first boot process.
First boot process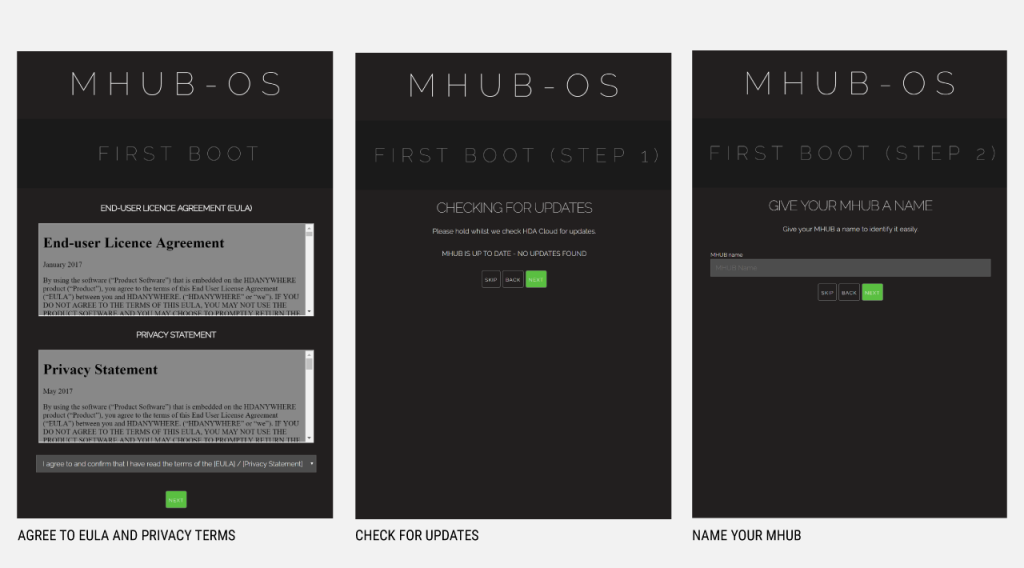 BEFORE STARTING:Read and agree to the End User Licence Agreement (EULA) and Privacy Statement
First Boot Step 1 – Check for MOS updates

This is where your MHUB requests available updates from HDA cloud so your unit will update to the latest version. This is done before proceeding.

First Boot Step 2 – Name your MHUB
Here you can give your MHUB a personal name, this can also be used to differentiate multiple installations by HDA Pro's
First Boot Step 3 – Name your sources/inputs
On this page you can label your input devices, such as Sky, Apple or Tivo. These labels are used in the uControl app and with voice control. Please go here for best practices when adding names. [Best Practices]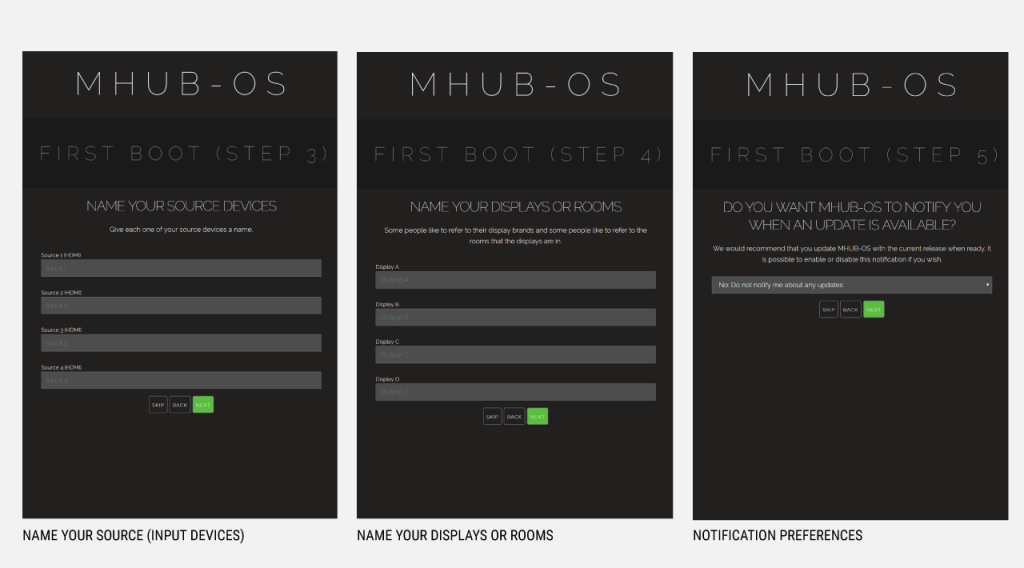 First Boot Step 4 – Name your Displays/Rooms/outputs
This page is similar to the previous step. You can choose to label them as display manufacturers or room names. Again please follow best practice guidelines available here – [Best Practices]
First Boot Step 5 – Turn update notifications On/Off
MOS updates are released periodically, here you can choose to be notified when an update is available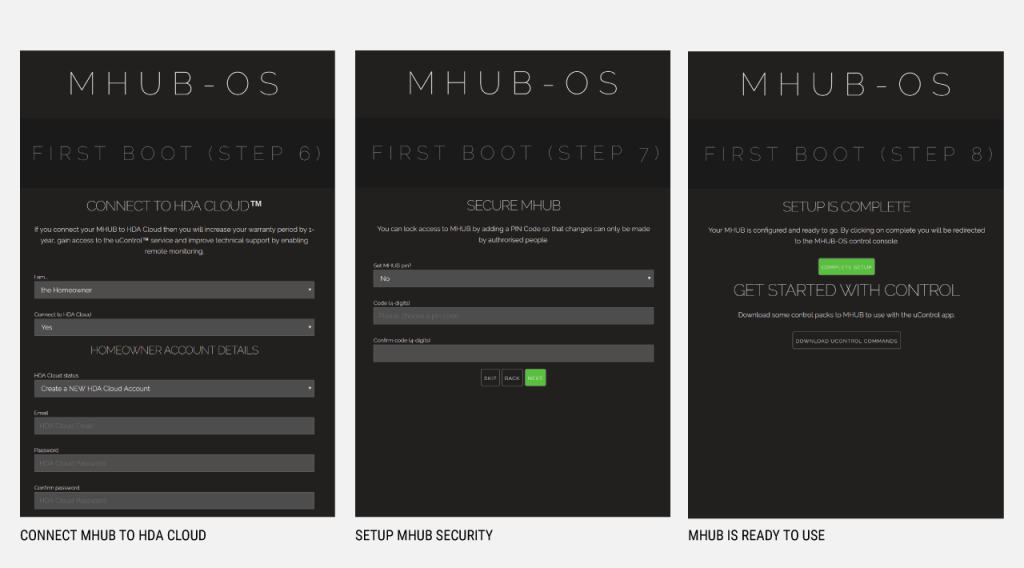 First Boot Step 6 – Create or link your MHUB to a HDA cloud account, read and agree to our Terms and Conditions
MHUB4K(3rd gen) and MHUB4KPRO units can be linked to a cloud based account. When registering as a homeowner this enables a couple of things. Firstly when you register, your warranty period is extended by 1 year, in addition to that cloud access is required when using the uControl IRengine feature allowing you to control source and display devices. Cloud access is also required for voice integration. For a HDA PRO the cloud account allows you to manage your MHUB installations remotely, getting system information as well as a host of other features.
First Boot Step 7 – Secure MHUB with a PIN number
If you wish you can lock local access to MOS stopping any unwanted configuration changes from being made.
First Boot Step 8 – Complete First Boot Setup
Once you have completed the first boot process you can either 'COMPLETE SETUP' and go to the MOS DASHBOARD pag, . or goto the uControl page to start adding device/source control. For more information on uControl go here uControl
Setting up the MHUB 4K PRO Control / MHUB 4K PRO Smarthome Skill on the Alexa app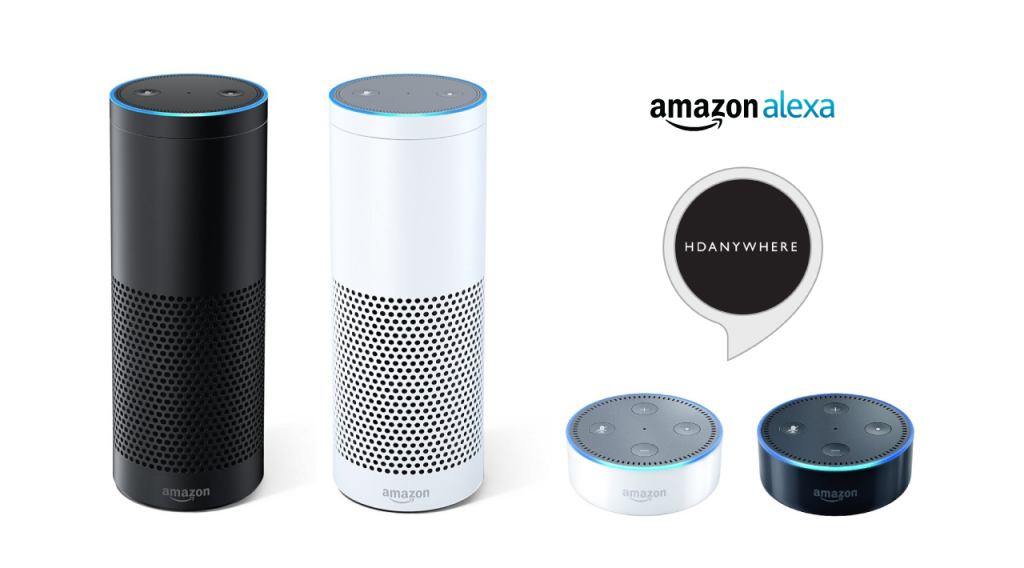 We are assuming that you have already downloaded the Amazon Alexa app and have a functioning Amazon account.
Skill types:
There are two types of skill which you can enable on the Alexa app.
Custom Skill
With a Custom Skill we have full control over the voice interaction (a voice interaction is the communication you have with an ECHO device when speaking a command and also includes the response given by the ECHO) between you and your Echo device, this allows for a greater range of voice commands including playhead, change channel, switch sources, increase/decrease volume.Click here to view a the full range of voice commands.
Smarthome Skill
The Smarthome skill differs from the custom skill in a couple of ways. Firstly, invoking a smarthome skill is fixed and defined by Amazon, this also applies to the voice interaction. We currently support on/off commands, allowing you to perform actions quickly by uttering "Alexa, turn on TV" or a custom label like "Alexa, turn on movies".
You can of course, use both. They are FREE!
What you need to get your MHUB to respond to voice commands:
You have completed the first-boot procedure within MHUB-OS
You have MHUB-OS version 7.0 or higher installed on your MHUB
You have an active HDA Cloud account
You have downloaded uControl packs for all displays and source devices you want to control
You have an active Amazon account
You have an Amazon Alexa enabled device, such as Amazon Dot/Echo/Show
Linking the custom skill "MHUB 4K PRO Control"
Go to the Skills section on the Alexa app and search for "MHUB 4K PRO Control"
Click on the skill and select "Enable"
Click "Link Account" – when you do this, you will be redirected to HDA Cloud's secure login page. Enter your username and password in to the fields.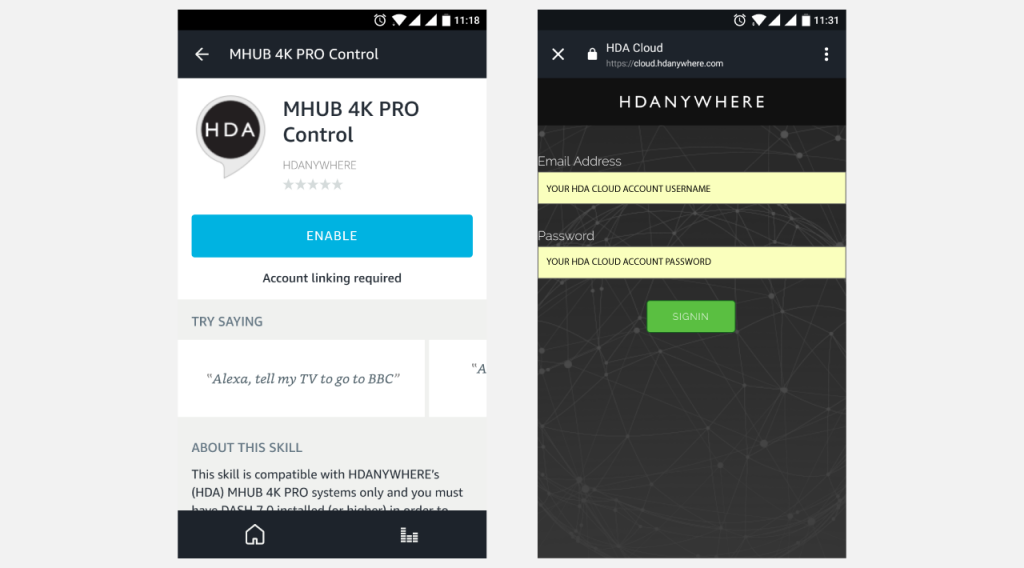 Linking the smarthome skill "MHUB 4K PRO Smarthome"
Go to the Skills section on the Alexa app and search for "MHUB 4K PRO Control"
Click on the skill and select "Enable"
Click "Link Account" – when you do this, you will be redirected to HDA Cloud's secure login page. Enter your username and password into the fields.
After the account has been linked, visit the "Smart Home" screen then navigate to the 'Manage devices in Smart Home' then Devices. Next click 'Discover'.
This action will communicate with MHUB and pull any devices making them ready to use.
Configure voice commands to do exactly what you want
Let's take the command "Alexa, tell my TV to watch football" as an example.
It might appear like a very simple command but there are a number of things that need to happen in order to watch football! First the TV might need to turn on, but in which room? The volume might need to be set to a desired limit. The correct source input might need to be selected on MHUB and finally that source will need to navigate to the channel hosting the football.
You can configure all those actions in what we call a "Sequence".
Taking the example above:
Alexa (this wakes up your Amazon Dot/Echo/Show)
tell my TV to… (this invokes HDA's custom skill)
watch (this is a special function which tells MHUB to start a Sequence)
football (this is your custom name for the Sequence, it can be anything you want)
Inside MHUB-OS we can configure exactly what "football" does.
You can select if you want MHUB to turn your TV on and adjust the volume
You can tell MHUB to switch to the source device with has the football on it
You can instruct MHUB to change the channel on that source device
Read more about Sequences and Scheduling.
Here's a table of all the commands you can tell your MHUB to do…
Now you're ready to go. Take a look at a full list of commands that you can say to your Echo.
If you find that you have no picture or poor picture quality, you may need to adjust the EQ settings on your XTND 2K30 based on the approximate distance of your cable run. If you have any patch points add an additional 10% onto your effective distance. The below diagram shows the correct switch settings for various lengths of cable run. We suggest working from the maximum distance and working down if you are unsure of the length of your cable run.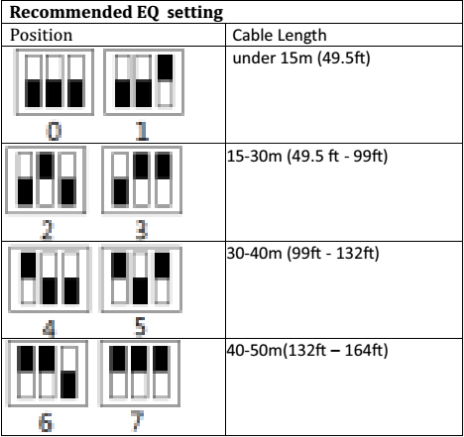 Basic IR Setup (dos and don'ts)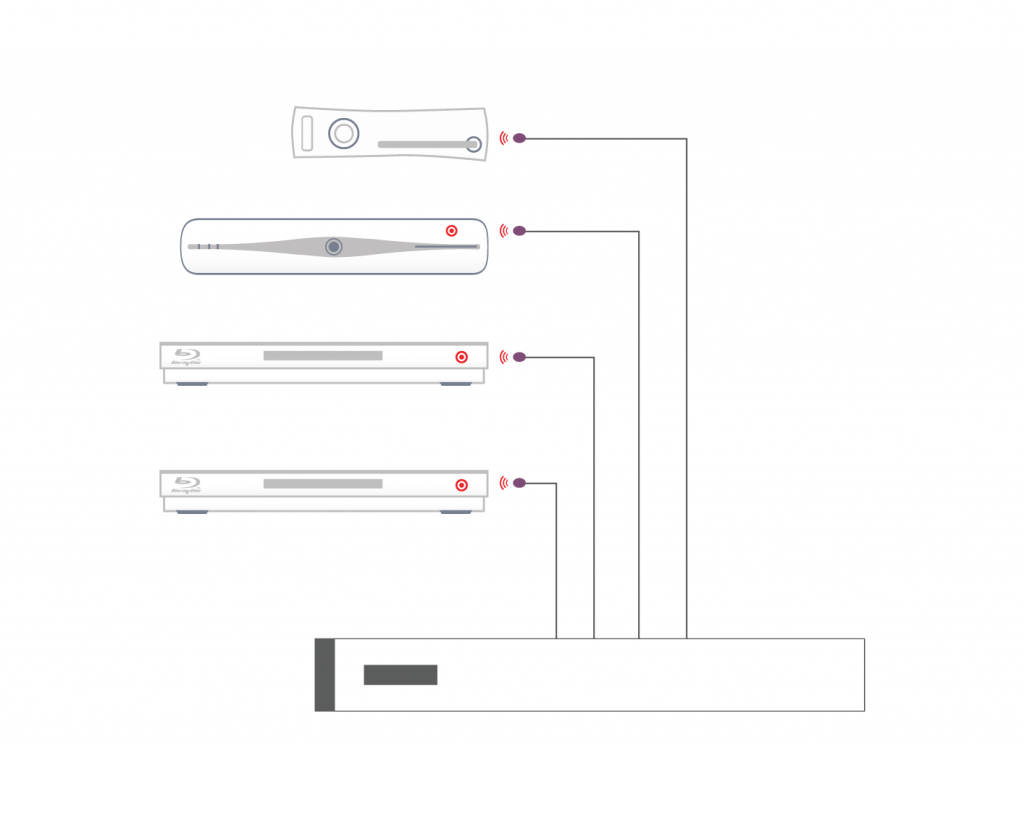 On Monday 18th of May we rolled out a firmware release to all live Modular 8×8 units. Whilst the update was being delivered to the units we suffered an ISP issue causing the update file to be corrupted in some instances. Most units will repair themselves automatically. If your unit is displaying a '1021 cant reach gateway' error or stuck in a boot loop please follow the instructions below
1. Remove and re-insert the SDCard from the slot on the front by pressing it once to pop it out and press again to pop it back in. This should resolve things in most cases. (This may need to be repeated if the first attempt fails)
2. In more rare cases, it may be that removing all of the cat5 cables from any HDBaseT outputs and then removing and replacing the SDCard is required.
3. In extreme instances, a manual software update is required. To perform this, the SDCard needs to be fully removed from the unit and placed in a Windows based PC. Open The SD Card and remove all files except the 'SETTINGS.INI' File. Then file below needs to be downloaded, extracted, then the three files within need to be placed on the root of the 8×8 SDCard. Once there, the card can be inserted back into the 8×8, it should reboot and apply the correct software. Normal operation of the 8×8 will then resume.
If none of the above works, or you require further assistance please contact the technical team via phone or email on 01684576348 & support@hdanywhere.com
Firmware files – Download

With all the technical jargon and various names given to 4K video, it's difficult to properly compare HD matrices on a like-for-like basis. So here's our HD matrix buyers guide to help simplify things.
 1. Ask yourself, what is the maximum resolution you want your system to support now and in the future?
To help, you can look at the maximum resolution of your displays and / or HDMI sources that you want to connect to the HD matrix. To date, there are very few 4K sources, but lots of 4K capable displays. So you may only have 1080p sources, but 4K displays. So the choice is often if you would like 4K support from your HD Matrix or not, in order to future proof yourself for the eventual arrival of 4K capable source devices.
To understand the resolutions in the table below in greater depth, you can click here for our more detailed 4K support article.
Once you've decided on the support you'd like your HD matrix to have, you can match it off to the chipset specification required by studying the table below.
This chipset specification can then be compared across HD matrix products. We've also broken the typcial chipset speeds down into levels to help make the next stage easier.
(NB – Platinum will support all Gold resolutions, Gold will support all Silver resolutions and Silver will support all bronze resolutions.)
Input Side Level

Maximum Resolutions Supported

Typical HDMI Chipset Specifications

Platinum

HDMI 2.0

4096×2160 @ 60Hz 4:4:4

600 Mhz Pixel Clock

18 Gbits Bandwidth

Gold

HDMI 1.4

3840×2160 @ 60Hz 4:2:0

4096×2160 @ 30Hz 4:4:4

1080p @ 60Hz 3D

340 Mhz Pixel Clock

10.2 Gbits Bandwidth

Silver

1080p @24Hz 3D

1080p @ 60Hz

720p @ 60Hz 3D

165 Mhz Pixel Clock

4.95 Gbits Bandwidth

Bronze

1080p @ 24Hz

720p @ 60Hz

1080i @ 60Hz

75 Mhz Pixel Clock

2.25 Gbits Bandwidth
2. Therefore, which type of output technology do you need? 
Next, it's important to match your desired resolution support to an output technology level that supports that resolution. So you can match gold to gold for example from the previous table.
Once you've chosen the appropriate level, there can be multiple types of output technology at the same level. So your choice between them may be based on features other than resolution capability. For a full breakdown of the different types of output technology on offer and their key features, you can read our article here.
You can then compare HD matrices looking for the required or your chosen technology.
(NB – Platinum technology will support all Gold technology resolutions, Gold technology will support all Silver technology resolutions and Silver technology will support all bronze technology resolutions.)
Output Side Level

Maximum Resolutions Supported

Output Technology Choices

Platinum

4096×2160 @ 60Hz 4:4:4

Native HDMI 2.0

Gold

3840×2160 @ 60Hz 4:2:0

4096×2160 @ 30Hz 4:4:4

1080p @ 60Hz 3D

All Platinum Choice and:

Native HDMI 1.4 (High Speed)

HDBaseT-Pro (100m CATx Soltution)

HDBaseT-Lite (70m CATx Solution)

Silver

1080p @24Hz 3D

1080p @ 60Hz

720p @ 60Hz 3D

All Platinum and Gold Choices plus:

Some high quality (non-HDBT) SingleWire & TwinWire 2x CATx solutions. Such as the HDAnywhere mHub.

 Bronze

1080p @ 24Hz

720p @ 60Hz

1080i @ 60Hz

All Platinum, Gold and Silver Choices.
3. Lastly, make sure your matrix doesn't have a bottleneck.
A HD Matrix is most commonly made up of three main stages. The input stage, the multiplexing stage and the output stage.
It's vital to check that each stage of the matrix has the same chipset capability or resolution capability. Most manufacturers will list the chipset speeds they are using and will group together the input stage and the multiplexing stage. Always seek clarification if this is not clear.
Some HD Matrices will have a Gold level input specification, but a silver level output. The result of this is that whilst you may be able to send into the HD matrix a 4K signal (such as 3840×2160 @ 60Hz 4:2:0) you cannot output it from the HD matrix to a TV. So the HD matrix does not have 4K support throughout.
If you work through the above and check in enough detail, you should get what you expect from your HD matrix purchase.
Answers to various 4K / Ultra HD questions we've been asked recently…
What is the content availability for Ultra HD/4K currently?
Very limited right now. In the US, Sony are shipping pre-loaded media servers with their 4K panels (in what seems to be a stop-gap measure) until an industry-ratified medium comes along. This will most likely be answered by Blu-ray, with the BDA working on defining a new expanded and elevated specification right now, expected for release later this year.
Why do home technology professionals need to be aware of Ultra HD/4K? Are consumers buying into this new technology?
The need to be aware because it's happening now. It's possible some are thinking of it as 3D – a passing fad or a peripheral feature. In reality it is similar to the leap we made from SD to 1080p; it's being supported by SMPTE, studios and vendors alike to such a high level that most in the community are not yet aware. Consumers will inevitably buy into the technology, but it will take time. Serious penetration won't happen until prices come right down and content is broadly available. Ten years ago you could only get 1080p by upscaling before Blu-ray (and HD-DVD) came along in 2006, but look at it now – 1080p is 'normal'. The 4K path will be the same, albeit in a much shorter timeframe.
What are some common misconceptions about Ultra HD/4K?
Misconception one – there's no content. OK, it's true right now – but it's close. There is actually already an impressive back catalogue of movies in 4K – but the new BD spec needs to be released (and new players to implement it) before we'll be able to truly tap in.
Misconception two – it will deliver no benefit: The resolution would exceed our own visual acuity. Look back through recent history – there was a time that an 34" TV (not rear pro) was regarded as HUGE. Now 42" is small, 50-60′ is normal, and even sizes up to 84" are gaining popularity. However we're not sitting further away than we used to. IMAX cinemas allow a much bigger picture with relatively close seating by increasing picture resolution. 4K panels and content will do the same.
Can you suggest one way Ultra HD/4K will help the bottom line?
There are a few opportunities for 4K to help drive business:
Old install refurbishments: all-new hardware and possibly even new cabling.
New 4K sales and installation requirements.
It defers cloud based delivery methods and in-home wireless technologies (for AV), reducing the DIY plug-n-play capability of consumers. That is, the high bandwidth specialty installation of 4K sustains the need for a professional integrator, with a chance for more hardware sales.
It will even help software (BD disc) sellers as 4K reduces the threat of downloads due to sheer file size and delivery bit rates.
On the technical side, where will the common mistakes be made?
Cables mislabelled: 4K is deliverable via HDMI at one fixed clock speed of 297MHz (up to 30 frames). This equates to an aggregate data rate nearing 9Gbps, which before the year is out will double again with an upcoming new HDMI spec. Although the existing 'High Speed' HDMI cable spec technically has this 9Gbps rate covered, many HDMI cables are possibly not accurately labelled.
Devices simply not capable: The big 'gotcha!' is with devices and the HDMI silicon they contain. Currently most devices employ HDMI chipsets (transmitters & receivers) that are limited to 225MHz, or 6.75Gbps, emanating from 2006 specifications. This is clearly insufficient for 4K, even with firmware upgrades. The pipe simply isn't big enough. Many HDMI extenders, switchers, splitters, matrix switchers etc, on the market also contain this restricted silicon, and so are not adaptable to 4K applications. Even if the silicon is upgraded, length potential will be much reduced, perhaps by more the half. CATx cable has become a favourite choice for installers for HDMI extension but 4K fundamentally challenges the limits of this cable type. Technologies like HDBaseT already address this through proprietary firmware driven timing technologies, but it's no longer native HDMI. Matrix switchers with HDBaseT will generally still perform the cross-point switching in the HDMI space, so they may still be restricted even though the HDBaseT stage is capable of more.
Do you have a final comment?
4K is not only coming, it's here. We'll exist in a world of upscaling and some proprietary file delivery for perhaps a year or two, then things will turn very quickly to more mass-market. The challenge for the custom installer is that they are expected to pre-wire jobs for future 4K support NOW, even though they can't yet even test what they're putting in for validation. They will need to rely on their product suppliers and a leap of faith that the products will deliver as expected, when expected. The phrase 'futureproof' is scarier and more difficult to define than ever.
The new HDMI spec will push data rates up to at least 18Gbps, driving the need for all-active connectivity and pretty much wiping out CATx cable as a viable extension cable option (other than possibly HDBaseT).
It's exciting times ahead with the best sales opportunities opening-up to those that learn the basics NOW and stay ahead of the curve.
Ultra HD began its life known as '4K'. The term 4K was officially adopted by the HDMI® organisation in 2009. In October 2012, the 4K working group of US-based organisation CEA renamed 4K to Ultra HD.
Regardless of its title, Ultra HD it is a video format offering four times the resolution of what is known as 1080p. Ultra HD has been also referred to as '4Kx2K', '4K/2K', and 'Quad HD'. In simple terms, 1080p video (what is called 'Full HD') is actually like viewing a 2 megapixel photo. 4K, however, is the equivalent of viewing an 8 megapixel photo. 1080p = 1920 x 1080 pixels. 4K = 3840 x 2160 pixels (consumer version)
What are the requirements for viewing Ultra HD?
1. Displays:
Ultra HD is initially dominating the high-end purist projector format, where it is most beneficial to improving the viewing experience. Sony have already shipped their first 4K projector. As of November 2012, it is appearing in flat panel displays due to consumer demand and/or manufacturers value-adding.
2. Sources:
The Blu-ray disc format is compatible with Ultra HD content once enough layers to hold the data are incorporated into the disc. A new 'Ultra HD capable' BD player will be required, of course.
3. Content:
As of November 2012, the movie industry is gearing up for Ultra HD content. James Cameron's Avatar 2 will be filmed in Ultra HD and other high profile directors are working with Ultra HD cameras now. Back catalogue film negatives are being transferred to Ultra HD digital masters.
4. Cables:
From a cabling point of view, Ultra HD video will actually be the first true technical/performance challenge to many long length HDMI cables which claim to be High Speed.
HDMI 2.0 was unveiled to the world at IFA Berlin in September.  Following this, Aussie company Kordz, stocked in the UK by HD Connectivity, became the first approved HDMI 2.0 Adopter in the world, outside of the HDMI Forum, and is the only HDMI 2.0 Adopter in Australia.  Founder David Meyer lifts the lid on the key features, inner workings and potential pitfalls of this new specification.
Each time a new version of HDMI is announced, there follows a buzz of new features and formats, but also a groan from the custom installation community as to what the implications may be.  HDMI 2.0 paves the way for some fantastic new video and audio capabilities, but no need to panic – the changes may not run as deep as you might think.  Ultimately HDMI 2.0 will settle into a place of normality, as has happened with every iteration before it.
So what does HDMI 2.0 offer, how is it different, and what are the headline features that you need to know about?  Let's take a look.
Development of HDMI 2.0
HDMI 2.0 is the first major HDMI specification release since version 1.4 back in 2009, so it's fair to say a lot has changed, and it needs to.  There are now two HDMI organisations;
HDMI Licensing, LLC, with its seven founder companies.  Developers and managers of the HDMI 1.x generations, and now also appointed licensing, marketing and compliance managers of HDMI 2.0,
HDMI Forum, Inc., a non-profit corporation founded in 2011, with more than 80 member companies for broader market development of future versions of HDMI,
An important point to note is that HDMI 1.4b remains as an ongoing specification, with HDMI 2.0 running concurrently with its subset of additional optional features and enhancements.  Existing HDMI Adopters do not automatically get an upgrade; they must sign an addendum and be accepted before they can become adopters of HDMI 2.0.
Key Features of HDMI 2.0
Here's a summary of some of the key new features of HDMI 2.0;
Video
2160p/60 (4K) 8-bit 4:2:0 in the existing 9Gbps data rate (previously 30fps limited),
2160p/60 (4K) 10 or 12-bit 4:2:2 colour at a new higher speed of 18Gbps,
Anamorphic video modes for 2.37:1 picture,
New 'Dual View' video mode for two simultaneous full screen 1080p images (on 3D backbone),
Audio
Up to 32 channels of One Bit audio to 192kHz, and up to 1536kHz sampling in 2-channel mode,
New 10.2, 22.2 and 30.2 channel modes for '3D Audio' speaker placement,
Up to 4 simultaneous audio streams to accompany Dual View video or multi-language,
Other
New 2.0 clock mode, EQs and data scrambling for transmission robustness,
New improved CEC 2.0, HDCP 2.2 support, and expanded applications for DDC.
In this article we'll focus on 2160p, touching on anamorphic, but coming back to explore audio some other day.
Emerging Trends – 4K TV Firmware upgrade to "HDMI 2.0"
The first key new feature of HDMI 2.0 out of the gate is the upgrade of 2160p (4K) to 60 frames per second within the existing defined HDMI bandwidth, where previously it was limited (under HDMI 1.4) to 30fps.  Both Sony and Panasonic have recently announced firmware updates for their existing 4K TVs to enable this feature, indicating that there is no new hardware (aka 'speed') required.  As an aside, they tend to tout this upgrade as "HDMI 2.0", but that's a non-compliant practice as it's actually just one of a multitude of new features of HDMI 2.0 that they're talking about.  What they really mean is that the firmware just adds newly defined support 2160p/60, 8-bit 4:2:0… assuming the existence of content.
So how is it possible to double the frame rate without doubling the bandwidth?  The answer lies in the '…8-bit 4:2:0' reference; save on colour data, give back in frame rate.
Chroma subsampling and pixel data packing
Chroma subsampling is a process of compressing, or rather stripping out colour data to reduce file size &/or video transmission bandwidth load.  The premise is that the human eye is far less sensitive to colour than in is to brightness and grayscale, by a factor of 20, in fact.  As such, the amount of colour information in video can potentially be reduced without us really noticing… or that's the plan.
The trick is to leave the resolution and gray scale untouched, which is why it's only applicable to Component video (YCbCr) signalling, where the separate luminance (Y) channel can be left intact.  The most common chroma subsampling methodologies are 4:2:2 with half colour data when compared to 4:4:4 original, and then there's 4:2:0 (as used with DVD & Blu-ray) with just one quarter of the original colour data.
The sampling commonly occurs over a 2×2 pixel array, where each pixel comprises a Luminance channel (Y) and two Chrominance channels (Cb & Cr).  Fig.1 below shows a simplified depiction of the uncompressed array before any subsampling, called 4:4:4.  Fig.2 shows how HDMI 1.4 (and prior) handles YCbCr, where everything from 8-bit 4:2:0 to 12-bit 4:2:2 produces precisely the same bandwidth at a constant 96 bits per array (same as 8-bit 4:4:4).  Fig.3 depicts 4:2:0 as it really should be, being how HDMI 2.0 handles it; with 8 bits of 'Y' per pixel, and just one of each 8-bit colour component Cb & Cr across the whole 2×2 array.
What they've done with HDMI 2.0 is recognise that 8-bit 4:2:0 natively nets 48 bits per sample array, and they've actually passed on the savings.  That is, they halve the bandwidth, which enables them to then double it again with frame rate.  Voila, 30fps goes to 60fps in the same bandwidth as before.  Note this is ONLY applicable to 8-bit 4:2:0.  This is not where HDMI 2.0 stops – there's even better formats on the horizon.
HDMI 2.0 Need for speed
There are several formats of 2160p (4K) that are included in the HDMI 1.4 specification, all of which run at 8.91Gbps, the specification then capping out at 10.2Gbps.   HDMI 2.0 introduces some more at this legacy level, and several superior combinations at double this rate, being 17.82Gbps (rounded to 18Gbps, 6Gbps/ch).  This is well beyond the limits of HDMI 1.4, and defines the top end of HDMI 2.0.  The range above 10.2Gbps is referred to as "HDMI 2.0 mode", whereby the TMDS Clock is slowed to 1/40th of the data rate to counter the effects of EMI at such high speeds.  Other techniques like data scrambling are also employed to improve stability.
HDMI 2.0 Cables
Right off the bat – THERE IS NO SUCH THING!  If anyone offers you so-called "HDMI 2.0 cables", turn and run.  It will be either a marketing tactic, or expression of ignorance.  Either way it's non-compliant.  When the HDMI 2.0 specification was first announced, it was accompanied by this statement;
"..Current High Speed cables (category 2 cables) are capable of carrying the increased bandwidth."
– HDMI Licensing, LLC, Press Release, 4 Sep 2013
http://www.hdmi.org/press/press_release.aspx?prid=133
There is no new speed, no new cable.  Does it make sense that a cable rated to 10.2Gbps can then carry up to 18Gbps?  Logically no, but they have some tricks up their sleeve.  2.0 introduces a parametric-like new sink EQ system which supposed to make a 10.2Gbps tested cable perform up to 18Gbps.  It can't however fully compensate for the collapsing effect of cable length, and will be expected to cap out at around 3m with a decent cable.  Beyond that, it's all bets off and there is no new cable spec, speed or directive.  My prediction – HDMI cables will have to turn active, as some already have.
2.37:1 Cinemascope
Another fantastic feature of HDM I 2.0 is the ability for it to support different pixel aspect ratios, namely 4:3 (nothing to do with 4:3 TV, by the way).  Eg; a 1080p image is comprised of 1,920 pixels wide and 1,080 pixels high.  Every pixel is square, so content is fed to each pixel in 1:1 ratio.  The array of 1:1 pixels then determines overall image aspect ratio, being 1.78:1, or 16:9.
What HDMI 2.0 has introduced is the ability for content to be formatted using 4:3 pixel ratio.  Every pixel in a supporting display could potentially be fed 4:3 anamorphic content, even though the pixel is still 1:1 square.  In practice, a projector with a matching anamorphic lens will horizontally stretch the image by 1/3 (4:3).  The result is 2.37:1 picture aspect ratio (1.78/3)x4 = 2.37.
No more encoded black bars.  It means we can look forward to maximising image resolution for cinemascope 2.37:1 in a standardised format.
Summary
HDMI 2.0 brings many benefits and some exciting new features, paving the way for a level of AV immersion the likes of which we've never seen.  Yes it means new hardware, but that points to opportunity for the custom AV dealer/installer.  HDMI speeds are ever increasing, and that means more demand on quality infrastructure to ensure everything works as planned.
Imagine a premium 2160p/60 2.37:1 aspect home cinema projection system with brilliant 12-bit 4:2:2 colour and 10.2 audio system.  How about dual-view gaming with 2 players each experiencing their own full screen 1080p image on the same TV, with separate audio tracks being fed to their headphones?   Or to really make your head spin, imagine an IMAX Private Theater ™ with 30.2 channel 3D digital sound.  Phwoah!
Using multichannel 5.1 / 7.1 amps AVR with matrix systems
Essential Knowledge
To understand how multichannel (5.1 / 7.1 etc) audio/sound is routed via a HDMI or HDBaseT matrix system, it is important to firstly acknowledge that all HDMI source devices (Blu-ray players, set-top-boxes, media servers, PCs etc) can only output a single audio format type at any one time. This is a limitation of HDMI itself.
For example, the HDMI port on a Blu-Ray player cannot simultaneously output HDMI with 2.0ch stereo as well as HDMI with 7.1 DTS Master audio. It is always one or the other.
With only displays connected to the matrix
When a matrix has only displays connected, with no AMPS/AVR in your set up, routing audio is relatively easy. This is because displays generally only have two speakers, and so a single HDMI format of HDMI+2.0ch can be routed to all displays. This gives you video and audio at every display.
Adding an AVR/AMP the matrix
When adding an AMP/AVR to the connected device mix, you are adding a component that can accept a multichannel audio format, such as 5.1 or 7.1.
You now have a situation whereby some connected devices (displays) can only accept HDMI with 2.0ch stereo and some (the AVR/Amp) can accept HDMI with multichannel audio.
What to expect in a mixed display / AVR setup
Video matrixes operate on a "lowest common denominator" rule. This means that the matrix will exchange information with your displays and AVRs to decide on the format of audio to get from the source device; choosing the format that will ensure audio is output in all of your locations.
One of two things can happen: If the AVR is turned on first and the matrix set to send a source capable of multi-channel audio to the AVR, the source will deliver multi-channel audio to the AVR. If a stereo TV is then turned on and the matrix then set to send the same source going to the AVR to the TV, the TV will be unable to play back the multi-channel audio. The result would be no sound from the TV.
In the reverse, if a TV is turned on first and the matrix is set to send one of the connected sources, the source will deliver stereo audio to the TV via the matrix. If the AVR is then switched on and the matrix set to deliver the same source going to the TV, the AVR will only receive stereo audio.
It is important to re-iterate, this is not a product limitation of HDanywhere matrixes. This is a limitation of HDMI technology itself and its specification.
A solution is therefore required whereby the source device always sends multichannel audio to the AMP/AVR and 2.0ch stereo audio to the displays.
Solution options
There are many ways to solve this problem. Some complicated, some easier. Things will depend on the location of your equipment and the number of AVRs. We are always happy to help you build a specific solution that meets your setup. Here we can only cover some of the more common setup examples and a single solution to those.
I have a single AVR located beside / local to my source devices and the matrix e.g. in a cupboard / AV rack.
In this type of setup, where the AVR for the multi-channel room is located with the sources and matrix itself, one solution is to deliver the audio to your AVR via alternative connectors to the HDMI where possible. For example, Sky HD boxes and Blu-Ray players usually have a digital audio output that can be connected to the AVR** via optical cabling. This can deliver multi-channel audio to the AVR over the optical cable, whilst the HDMI output from the source device can deliver 2.0 ch stereo audio to your matrix and therefore your other TV (stereo) locations in your setup. If this setup is located away from the room with multi-channel speakers fitted, say an under-stairs cupboard, there are solutions to keep IR control of your AVR that we can help with.
AVRs located in the room with the displays
In this type of setup, where AVR(s) are located in the rooms local to the displays, make sure the HDMI device is set to output 5.1 / 7.1 channel audio. This audio format will be sent over the Cat cable to each display location. In order to get audio out of your HDTVs (in say three rooms) and the AVR (connected to HDTV in a fourth room), some additional hardware is needed. HDanywhere sell a signal manager. Place 1 x signal manager at each TV that needs 2.0 channel audio aka. each TV that does not have an AVR.  Use a HDMI cable to connect the HDMI output port of the matrix's display receiver to the HDMI input port of the Signal manager. Then use another HDMI cable to connect the HDMI output port of the Signal Manager to the HDMI port on the HDTV. So, the Signal Manager sits in between the display receiver and the HDTV.
The Signal Manager has a box labelled "Audio". The little switch on this audio section needs toggled to number 2: LPCM 2.0 before you connect up and turn on all your HDMI source devices and displays. Do not switch toggle the switch from no. 1 to no. 2 whilst displays and HDMI sourced devices are on. If you do so, you will need to power down the re-power all source devices and displays.
Once the signal manager is set up and in place it will take 5.1 and output it as 2.0, ready to be accepted and then output by the HDTV. This should hopefully resolve your issue and deliver 5.1 to your AVR and 2.0 to your HDTV.
Notes:
*Multichannel audio via HDMI includes the following formats: LPCM, Dolby Digital, DTS, DVD-Audio, Super Audio CD, Dolby Digital Plus, Dolby TrueHD,DTS-HD High Resolution Audio, DTS-HD Master Audio, MPCM, DSD, DST
**When using alternative audio connectors other than HDMI, support for DTS-HD Master Audio and Dolby True HD is lost.