Search by Support Category:
Matrixes
If you have received a notification in uControl or by email that an update is available for your MHUB-OS then follow these steps to update your system.
Go to MHUB-OS interface
There are two ways to achieve this:
From MHUB-OS Press the "MENU" button on the front of the MHUB for 5 seconds, wait for the IP address to appear, then enter that IP address (usually something like: http://192.168.1.240) in to any web browser on the same network.
From uControl Visit the settings page in the uControl app and click on the "DASH" (now called "MHUB-OS") to be directed to the MHUB-OS interface.
Updating MHUB-OS to the latest version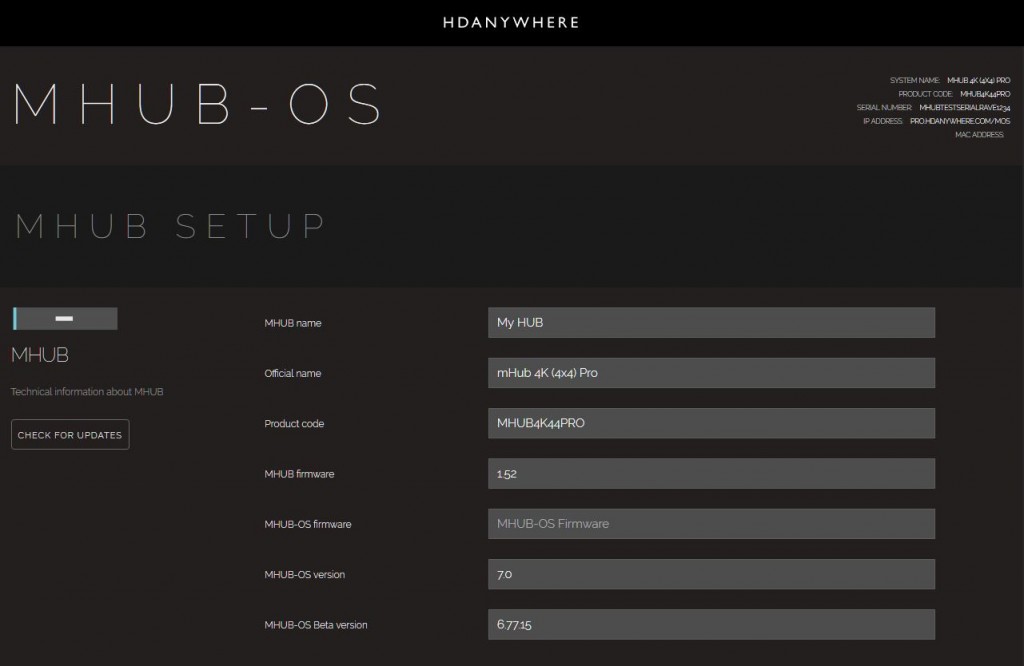 Click on the menu bar at the top of the page, this will reveal MHUB-OS's navigation menu
Click on "MHUB SETUP" in the menu
Find a the section at the top of the page called "MHUB" (from this area you can also check what version of MHUB-OS is installed).
Underneath that section there will be a button labelled "Check for updates" (see image). Select that option.
MHUB-OS's installation wizard should start. Follow the instructions to update MHUB-OS.
Make sure MHUB is connected up correctly before starting the first boot process on MHUB-OS
HDANYWHERE(HDA) recommends that every MHUB install goes through its first boot process to ensure that the MHUB is setup correctly. Please follow the quick start guide (inside MHUB packaging) to make sure your MHUB is connected correctly to your source devices, displays and has an active network connection before proceeding.
I don't want to use MHUB-OS or go through the first boot process, will MHUB work like a normal matrix?
Yes. You do not need to access MHUB-OS if you don't want to. MHUB will work distributing video as normal and will be controllable using the included remote controls. Please note that you will not be able to access advanced features such as voice control, the uControl app or build Sequences.
Accessing MHUB-OS (MOS)
There are two ways to access MOS:
Download our app, uControl, from the iOS or Google Play Store and let it find MHUB (and run you through the first boot) for you
Go to your MHUB and press and hold the "MENU" button for 5 seconds to reveal its IP address. Make a note of it then put that address in to any web browser on the same network. You will be forwarded to the first boot process.
First boot process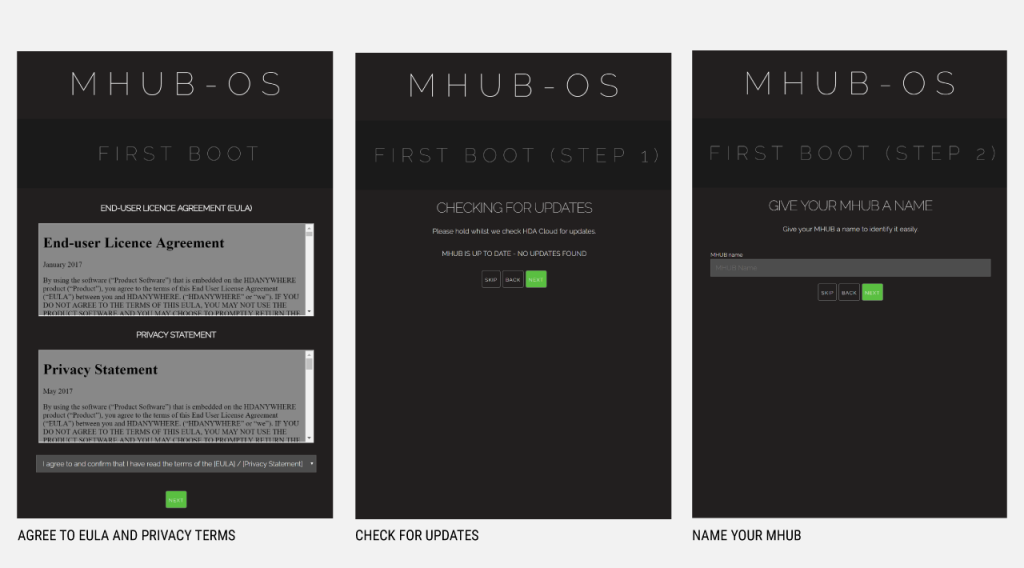 BEFORE STARTING:Read and agree to the End User Licence Agreement (EULA) and Privacy Statement
First Boot Step 1 – Check for MOS updates

This is where your MHUB requests available updates from HDA cloud so your unit will update to the latest version. This is done before proceeding.

First Boot Step 2 – Name your MHUB
Here you can give your MHUB a personal name, this can also be used to differentiate multiple installations by HDA Pro's
First Boot Step 3 – Name your sources/inputs
On this page you can label your input devices, such as Sky, Apple or Tivo. These labels are used in the uControl app and with voice control. Please go here for best practices when adding names. [Best Practices]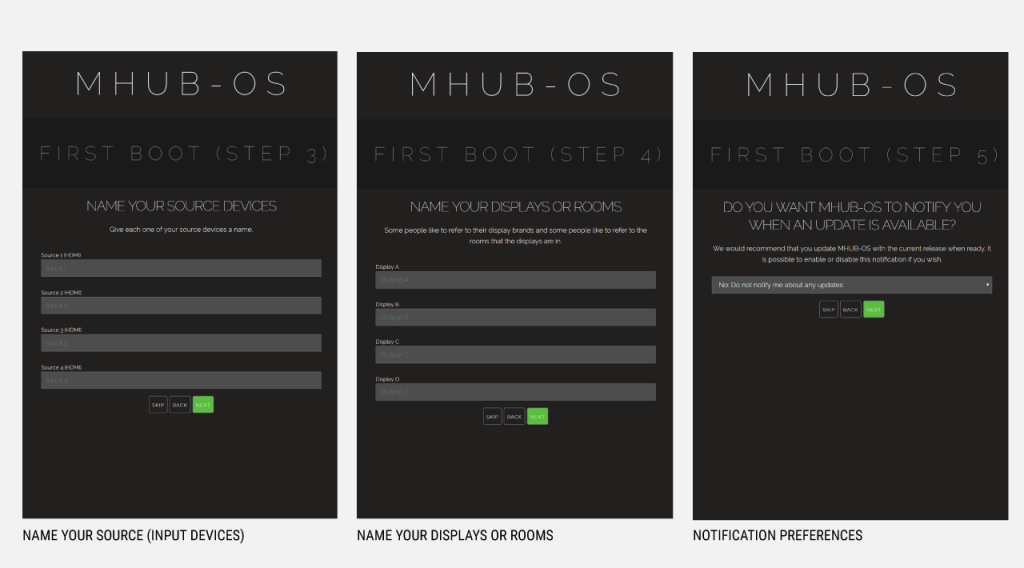 First Boot Step 4 – Name your Displays/Rooms/outputs
This page is similar to the previous step. You can choose to label them as display manufacturers or room names. Again please follow best practice guidelines available here – [Best Practices]
First Boot Step 5 – Turn update notifications On/Off
MOS updates are released periodically, here you can choose to be notified when an update is available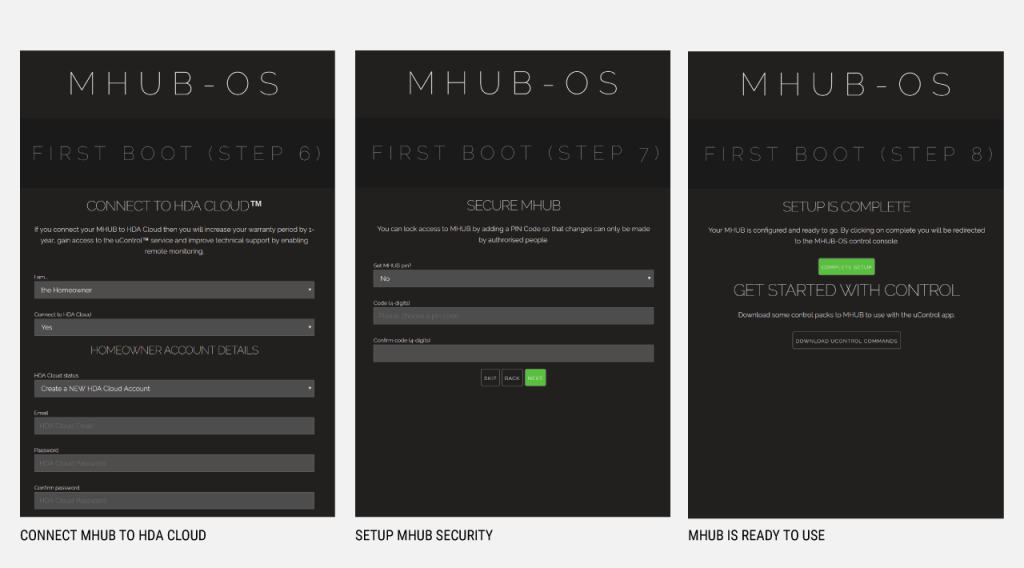 First Boot Step 6 – Create or link your MHUB to a HDA cloud account, read and agree to our Terms and Conditions
MHUB4K(3rd gen) and MHUB4KPRO units can be linked to a cloud based account. When registering as a homeowner this enables a couple of things. Firstly when you register, your warranty period is extended by 1 year, in addition to that cloud access is required when using the uControl IRengine feature allowing you to control source and display devices. Cloud access is also required for voice integration. For a HDA PRO the cloud account allows you to manage your MHUB installations remotely, getting system information as well as a host of other features.
First Boot Step 7 – Secure MHUB with a PIN number
If you wish you can lock local access to MOS stopping any unwanted configuration changes from being made.
First Boot Step 8 – Complete First Boot Setup
Once you have completed the first boot process you can either 'COMPLETE SETUP' and go to the MOS DASHBOARD pag, . or goto the uControl page to start adding device/source control. For more information on uControl go here uControl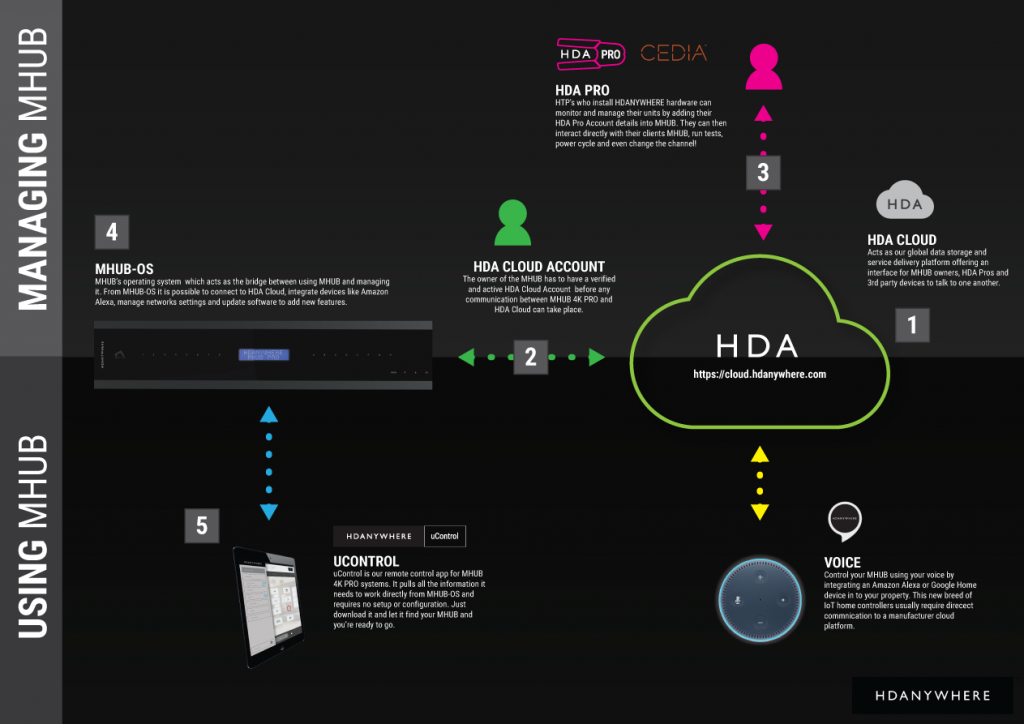 1. HDA Cloud
The HDA Cloud acts as our global data storage and service delivery platform offering an interface for MHUB owners, HDA Pro's and 3rd party devices to talk to one another.
There are two types of cloud account that can be associated with an MHUB system.


2. HDA Cloud Account
The HDANYWHERE (HDA) Cloud account is the account that belongs to the Homeowner and/or End-User. The owner of the MHUB has to have a verified HDA Cloud account before any communication between MHUB systems and the HDA Cloud can take place.
Registering the MHUB system provides numerous benefits including:
Extending the warranty period on the system by 1 year (must be registered within 30 days of purchase, Warranty is non-transferable)
Enables advanced functions for things like voice control, uControl, integration with other IoT devices and Sequences
Provide advanced troubleshooting information to your HDA Pro installer and HDA
Provide your HDA Pro installer permission to remotely manage your system, they can then modify your system for you without physically being there
3. HDA Pro Account
The HDA Pro account can not be added to a unit unless a HDA Cloud account (outlined above) is present first. This account authorises the installer to monitor the MHUB on their customer's (the homeowner) behalf. This account sits alongside the Cloud account and gives a 3rd party access to the MHUB's data and the ability to control it. HDA Pro's can register Here
The following Settings can be managed remotely:
Source Routing (and switching)
Edid management
uControl sequence configuration
uControl IR pack configuration
Power management

You can also monitor the following:

IP configuration
Temperature
Firmware (MHUB-OS, and MHUB)

IMPORTANT: a HDA Pro Account has to be created first Here and authorised by HDA staff before the installer can use their account details to enable monitoring on the MHUB.
MHUB's operating system which acts as the bridge between using MHUB and managing it. From MHUB-OS it is possible to connect to HDA Cloud, integrate devices like Amazon Alexa, manage network settings and update software to add new features.
uControl is our remote control app for MHUB 4K PRO systems. It pulls all the information it needs to work directly from MHUB-OS and requires no setup or configuration. Just download it and let it find your MHUB and you're ready to go.
Setting up the MHUB 4K PRO Control / MHUB 4K PRO Smarthome Skill on the Alexa app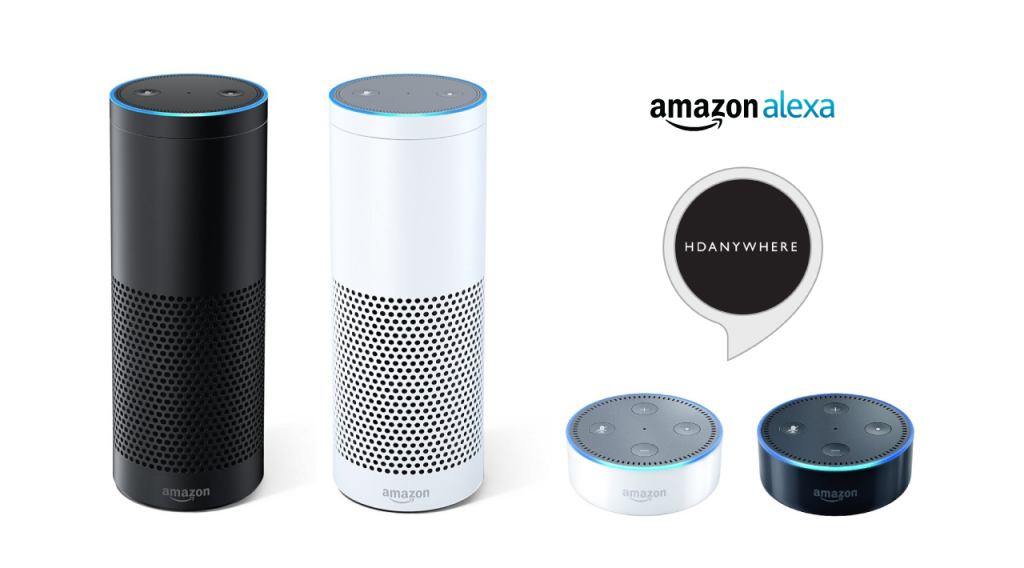 We are assuming that you have already downloaded the Amazon Alexa app and have a functioning Amazon account.
Skill types:
There are two types of skill which you can enable on the Alexa app.
Custom Skill
With a Custom Skill we have full control over the voice interaction (a voice interaction is the communication you have with an ECHO device when speaking a command and also includes the response given by the ECHO) between you and your Echo device, this allows for a greater range of voice commands including playhead, change channel, switch sources, increase/decrease volume.Click here to view a the full range of voice commands.
Smarthome Skill
The Smarthome skill differs from the custom skill in a couple of ways. Firstly, invoking a smarthome skill is fixed and defined by Amazon, this also applies to the voice interaction. We currently support on/off commands, allowing you to perform actions quickly by uttering "Alexa, turn on TV" or a custom label like "Alexa, turn on movies".
You can of course, use both. They are FREE!
What you need to get your MHUB to respond to voice commands:
You have completed the first-boot procedure within MHUB-OS
You have MHUB-OS version 7.0 or higher installed on your MHUB
You have an active HDA Cloud account
You have downloaded uControl packs for all displays and source devices you want to control
You have an active Amazon account
You have an Amazon Alexa enabled device, such as Amazon Dot/Echo/Show
Linking the custom skill "MHUB 4K PRO Control"
Go to the Skills section on the Alexa app and search for "MHUB 4K PRO Control"
Click on the skill and select "Enable"
Click "Link Account" – when you do this, you will be redirected to HDA Cloud's secure login page. Enter your username and password in to the fields.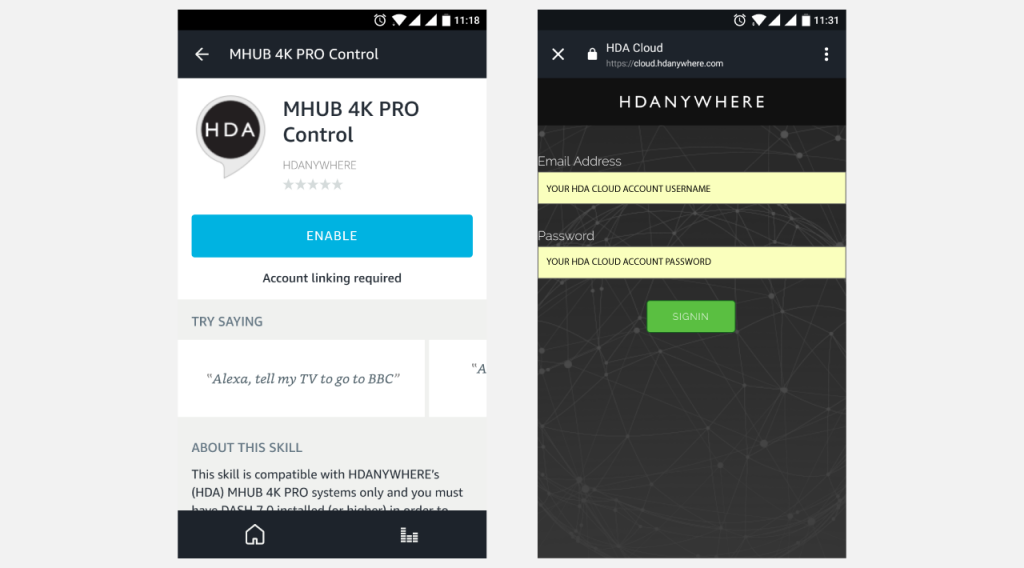 Linking the smarthome skill "MHUB 4K PRO Smarthome"
Go to the Skills section on the Alexa app and search for "MHUB 4K PRO Control"
Click on the skill and select "Enable"
Click "Link Account" – when you do this, you will be redirected to HDA Cloud's secure login page. Enter your username and password into the fields.
After the account has been linked, visit the "Smart Home" screen then navigate to the 'Manage devices in Smart Home' then Devices. Next click 'Discover'.
This action will communicate with MHUB and pull any devices making them ready to use.
Configure voice commands to do exactly what you want
Let's take the command "Alexa, tell my TV to watch football" as an example.
It might appear like a very simple command but there are a number of things that need to happen in order to watch football! First the TV might need to turn on, but in which room? The volume might need to be set to a desired limit. The correct source input might need to be selected on MHUB and finally that source will need to navigate to the channel hosting the football.
You can configure all those actions in what we call a "Sequence".
Taking the example above:
Alexa (this wakes up your Amazon Dot/Echo/Show)
tell my TV to… (this invokes HDA's custom skill)
watch (this is a special function which tells MHUB to start a Sequence)
football (this is your custom name for the Sequence, it can be anything you want)
Inside MHUB-OS we can configure exactly what "football" does.
You can select if you want MHUB to turn your TV on and adjust the volume
You can tell MHUB to switch to the source device with has the football on it
You can instruct MHUB to change the channel on that source device
Read more about Sequences and Scheduling.
Here's a table of all the commands you can tell your MHUB to do…
Now you're ready to go. Take a look at a full list of commands that you can say to your Echo.
If you wish to expand the function of your 4×3+1 or 8×6+2 it is possible to integrate IR support on the HDMI ports via the included HDMI injector dongle.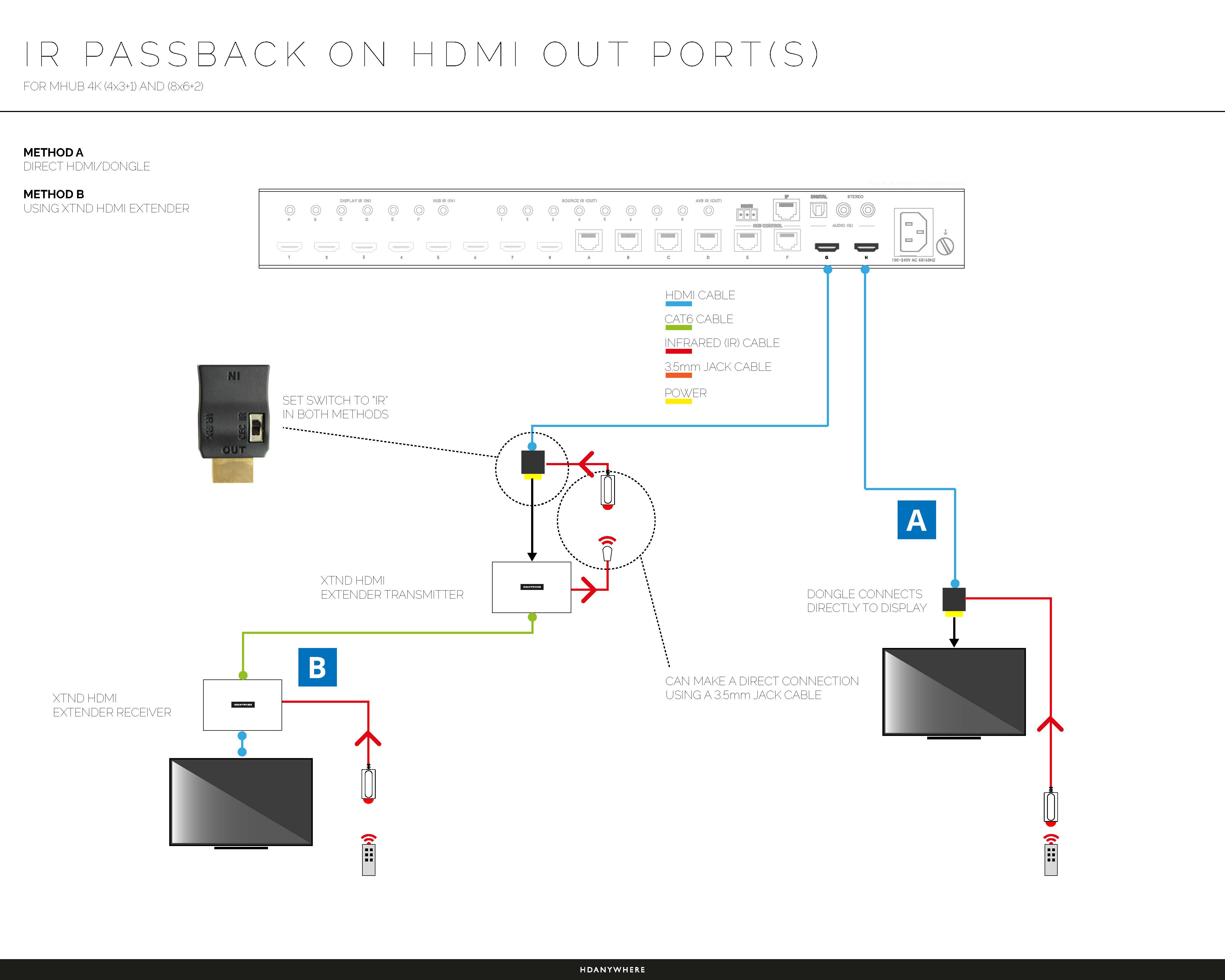 Control Drivers for the MHUB Family (IP / RS232 / IR) – MHUB2K44 MHUB2K88 MHUB4K44 MHUB4K88 MHUB4K431 MHUB4K862 MHUB4KPRO44 MHUB4KPRO88
We have ready-made control system drivers available for MHUB series systems for all the major control systems.
These can all be found in our control pack which can be downloaded Here
Also included in this are the raw IP and RS232 strings so you can create custom drivers and commands for MHUB.
If you have an older MHUB system (2-15 or older) or Modular System, then you can find the drivers below.
Control4 (IP Driver)*
Crestron (IP Driver)*
AMX (IP Driver)*
RTI (IP Driver)*
* -For mHub 4K (2015) please use Modular 4×4 driver
Description
When I try to install the software, I receive this warning:
"The application has failed to start because its side-by-side configuration is incorrect. Please see the application event log for more detail."
This issue is typically caused by a conflict between the program and one or more of the files in the C++ runtime libraries. These libraries are part of the Windows operating system and are used, and potentially updated, by installing or updating several Microsoft or other third party products.
If you are experiencing this error when launching or installing the program, and if the program repair option does not resolve the issue, the most effective method to correct this error is to uninstall and reinstall any Microsoft Visual C++ installations currently available on your computer before proceeding with the installation.
To uninstall all current Microsoft Visual C++ installations
Open the Control Panel and locate the list of programs.
Windows 8/10
From within the Start screen, type "Control Panel" and click on the Control Panel search result when it appears.
Select Programs and Features.
Windows 7/Vista
Click Start> Control Panel
If viewing categories, click Programs> Uninstall a Program
If viewing icons, click Programs and Features
Windows XP
Select Start> Control Panel> Add or Remove Programs
Scroll down to locate the Microsoft Visual C++ entries.
Select each one, starting from the top entry, and choose Uninstall.
Do this for each entry, until there are no more Microsoft Visual C++ entries listed.
To reinstall new Microsoft Visual C++ packages
Click each of the following links in order. If prompted, choose to Run the download to install each Microsoft Visual C++ Redistributable Package.
Microsoft Visual C++ 2005 Redistributable Package (x86)
Microsoft Visual C++ 2005 Redistributable Package (x64)
Microsoft Visual C++ 2008 Redistributable Package (x86)
Microsoft Visual C++ 2008 SP1 Redistributable Package (x86)
Microsoft Visual C++ 2008 Redistributable Package (x64)
Microsoft Visual C++ 2008 SP1 Redistributable Package (x64)
Microsoft Visual C++ 2010 Redistributable Package (x86)
Microsoft Visual C++ 2010 SP1 Redistributable Package (x86)
Microsoft Visual C++ 2010 Redistributable Package (x64)
Microsoft Visual C++ 2010 SP1 Redistributable Package (x64)
Microsoft Visual C++ 2012 Redistributable Package (x86/x64/ARM)
Microsoft Visual C++ 2013 Redistributable Package (x86/x64/ARM)
Once every package has been downloaded and installed, restart Windows.
Finally, launch the program. If the error message persists after following all of these instructions, then please contact HDanywhere technical support on 01684 576348
The mHub 4K range has full support for most popular control systems via serial (RS232) or IP.
All control strings and current available drivers are available in the mHub control pack, available here – Download
IP control
To control the mHub 4k unit via IP you will first need to discover it by using the mHub controller software available in the control pack above
The mHub 4K will acquire an IP address via DHCP the first time it is connected to your home network, use the controller software to locate it on your network.
In the mHub controller software select IP and then press the 'search' button, this should locate your mHub matrix. Press 'connect' the red button should turn green.
Press the configure button
From here you can set the matrix to a static IP if you wish (this is generally good practice)
Your matrix is now on your home network and will be able to receive IP commands from whatever control system you are using.
Looking for the mHub 2K information, go here – mHub 2K
To disable the beep on the mHub 2k range of matrices please following the instructions below using either I.P or RS232 connection methods.
To adjust the settings on the mHub range of products, you will need to download the controller software Download
 A) Connecting to the mHub Via I.P
The mHub 2K's IP address is pre-configured as 192.168.0.100, your computer will need to have it's IPV4 range configured to be within the same range initially while you setup the matrix. (You don't need to follow this step if you have a mHub 4K system)
To configure your IPV4 settings you will need to navigate to the following menu
->Network and sharing center
—>Ethernet
—–>Properties
——->Internet Protocol Version 4 (TCP/IPv4)
———>Properties
Once you have changed the IP settings on your PC, open the Mhub controller software.
In the Control Mode Select Box choose 'IP', then click the 'Search' button. When the IP address shows in the mHub IP box, click connect.
B)  Connecting to the mHub Via RS232
To connect via RS232 use the supplied serial cable can connect between the mHub and your PC, then on the Controller software select 'RS232′, then in the RS232 Options section select the Com port being used from the drop down menu then click connect
C) Disabling the Beep
To disable the beep select the 'Control' tab and untick the box labeled 'Enable Feedback Beep'.
Once changed, you can verify the beep has been disabled by performing a source switch operation.
| | |
| --- | --- |
| Error Code | Description |
| 1001 | Corrupt Service Card – Replace the SDCard or format and re-create |
| 1002 | Insert valid SDCard – No card detected or installed in the unit |
| 1003 | Write Protect Mode – SDCard is in write protect mode |
| 1004 | System Failure – MatrixOS is missing from the system and needs to be installed – i.e. rebuild the SDCard |
| 1005 | Insert Service Card – Insert an SDCard with a valid matrix OS firmware image |
| 1006 | Update failed – No firmware image found |
| 1007 | Update failed – Firmware image is corrupt or invalid |
| 1008 | Update failed – Firmware image is too large for the system. |
| 1009 | Remove service card – A bulk update card is installed and the update is complete, ready for a normal service card. |
| 1010 | Onscreen message varies – The unit update has failed and will be showing where internally in the unit it has failed. |
| 1011 | Update failed writing to flash. A critical error and process was stopped |
| 1012 | Communication Fault – The system cannot bring up internal communication bus and is unable to proceed |
| 1013 | Module Fault – Comes with specified module number |
| 1014 | System Fault – An internal IC has failed, indicated by the extended error code |
| 1015 | Input hotplug fault. Unable to enable the hot plug 5V voltage for one or more input modules |
| 1016 | EDID Setup Fault – The system cannot bring up the EDID mixing routines |
| 1017 | Communication fault – The system cannot bring up the 5V I2C communication line |
| 1018 | IR Mux fault – The system cannot bring up the IR Mux subsystem |
| 1019 | IR Capture fault – The system cannot bring up the IR capture subsystem |
| 1020 | Local Network Failure – Unable to ping the local gateway |
| 1021 | Remote Net Failure – Unable to ping DNS servers |
| 1022 | Module Power Fault – The system reports that one of the voltages used to power modules is not functioning correctly |
| 1023 | Network HW Fault – The network hardware has a hardware fault |
| 1024 | Network HW Fault – EDID Read Failure – the system has failed to read the EDID from a connected device |
| 1025 | Network HW Fault – Filesystem Fault – The system has an issue reading from the SDCard |
| 1026 | Network HW Fault – Invalid update URL – The custom URL for retrieving updates is not valid |
| 1027 | Network HW Fault – Discovery failure – the system has failed to enable its auto discovery feature (SDDP) |
| 1028 | Network HW Fault – Invalid Aux MCU – the Component fitted is incorrect |
| 1029 | Update failed – This version is too old for this part |
| 1030 | Invalid Module – A module is inserted in the wrong port |
mHub IR, RS232 and IP Control Information and Hex Strings
The control pack below has all the relevant IR, RS232 and I.P. control strings as well as all the current available control system integration drivers for Control4 and RTI
mHub Control Pack – mHub Control Pack
If you need any further information or support, you can contact customer services – here.
HDanywhere 2K systems, such as the mHub 2K family, require a single network cable to be run from each HDTV location, back to a central point.
HDanywhere 2K systems use HDMI over Cat technology to transmit over a single Cat5e/6/7 cable up to a 50 metre distance.
Modular units have the ability to receive Infra-red(IR) commands in two different ways; Code-based IR and Contextual based IR. Code-based IR uses unique codes for each room/output, whilst Contextual IR uses a single set of codes, with the unit determining where the IR command originated.
If you wish to revert the unit to Code based IR control please edit the settings.ini file on the SD card (Please use only PC based systems to edit the SD card contents) and remove the following information.
cir1 = 0x00ff9867
cir2 = 0x00ffd827
cir3 = 0x00ff8877
cir4 = 0x00ffa857
cir1 = 0x00ff807f
cir2 = 0x00ff00ff
cir3 = 0x00ff30cf
cir4 = 0x00ff906f

With all the technical jargon and various names given to 4K video, it's difficult to properly compare HD matrices on a like-for-like basis. So here's our HD matrix buyers guide to help simplify things.
 1. Ask yourself, what is the maximum resolution you want your system to support now and in the future?
To help, you can look at the maximum resolution of your displays and / or HDMI sources that you want to connect to the HD matrix. To date, there are very few 4K sources, but lots of 4K capable displays. So you may only have 1080p sources, but 4K displays. So the choice is often if you would like 4K support from your HD Matrix or not, in order to future proof yourself for the eventual arrival of 4K capable source devices.
To understand the resolutions in the table below in greater depth, you can click here for our more detailed 4K support article.
Once you've decided on the support you'd like your HD matrix to have, you can match it off to the chipset specification required by studying the table below.
This chipset specification can then be compared across HD matrix products. We've also broken the typcial chipset speeds down into levels to help make the next stage easier.
(NB – Platinum will support all Gold resolutions, Gold will support all Silver resolutions and Silver will support all bronze resolutions.)
Input Side Level

Maximum Resolutions Supported

Typical HDMI Chipset Specifications

Platinum

HDMI 2.0

4096×2160 @ 60Hz 4:4:4

600 Mhz Pixel Clock

18 Gbits Bandwidth

Gold

HDMI 1.4

3840×2160 @ 60Hz 4:2:0

4096×2160 @ 30Hz 4:4:4

1080p @ 60Hz 3D

340 Mhz Pixel Clock

10.2 Gbits Bandwidth

Silver

1080p @24Hz 3D

1080p @ 60Hz

720p @ 60Hz 3D

165 Mhz Pixel Clock

4.95 Gbits Bandwidth

Bronze

1080p @ 24Hz

720p @ 60Hz

1080i @ 60Hz

75 Mhz Pixel Clock

2.25 Gbits Bandwidth
2. Therefore, which type of output technology do you need? 
Next, it's important to match your desired resolution support to an output technology level that supports that resolution. So you can match gold to gold for example from the previous table.
Once you've chosen the appropriate level, there can be multiple types of output technology at the same level. So your choice between them may be based on features other than resolution capability. For a full breakdown of the different types of output technology on offer and their key features, you can read our article here.
You can then compare HD matrices looking for the required or your chosen technology.
(NB – Platinum technology will support all Gold technology resolutions, Gold technology will support all Silver technology resolutions and Silver technology will support all bronze technology resolutions.)
Output Side Level

Maximum Resolutions Supported

Output Technology Choices

Platinum

4096×2160 @ 60Hz 4:4:4

Native HDMI 2.0

Gold

3840×2160 @ 60Hz 4:2:0

4096×2160 @ 30Hz 4:4:4

1080p @ 60Hz 3D

All Platinum Choice and:

Native HDMI 1.4 (High Speed)

HDBaseT-Pro (100m CATx Soltution)

HDBaseT-Lite (70m CATx Solution)

Silver

1080p @24Hz 3D

1080p @ 60Hz

720p @ 60Hz 3D

All Platinum and Gold Choices plus:

Some high quality (non-HDBT) SingleWire & TwinWire 2x CATx solutions. Such as the HDAnywhere mHub.

 Bronze

1080p @ 24Hz

720p @ 60Hz

1080i @ 60Hz

All Platinum, Gold and Silver Choices.
3. Lastly, make sure your matrix doesn't have a bottleneck.
A HD Matrix is most commonly made up of three main stages. The input stage, the multiplexing stage and the output stage.
It's vital to check that each stage of the matrix has the same chipset capability or resolution capability. Most manufacturers will list the chipset speeds they are using and will group together the input stage and the multiplexing stage. Always seek clarification if this is not clear.
Some HD Matrices will have a Gold level input specification, but a silver level output. The result of this is that whilst you may be able to send into the HD matrix a 4K signal (such as 3840×2160 @ 60Hz 4:2:0) you cannot output it from the HD matrix to a TV. So the HD matrix does not have 4K support throughout.
If you work through the above and check in enough detail, you should get what you expect from your HD matrix purchase.