What is the difference between a HDA Cloud & a HDA Pro account?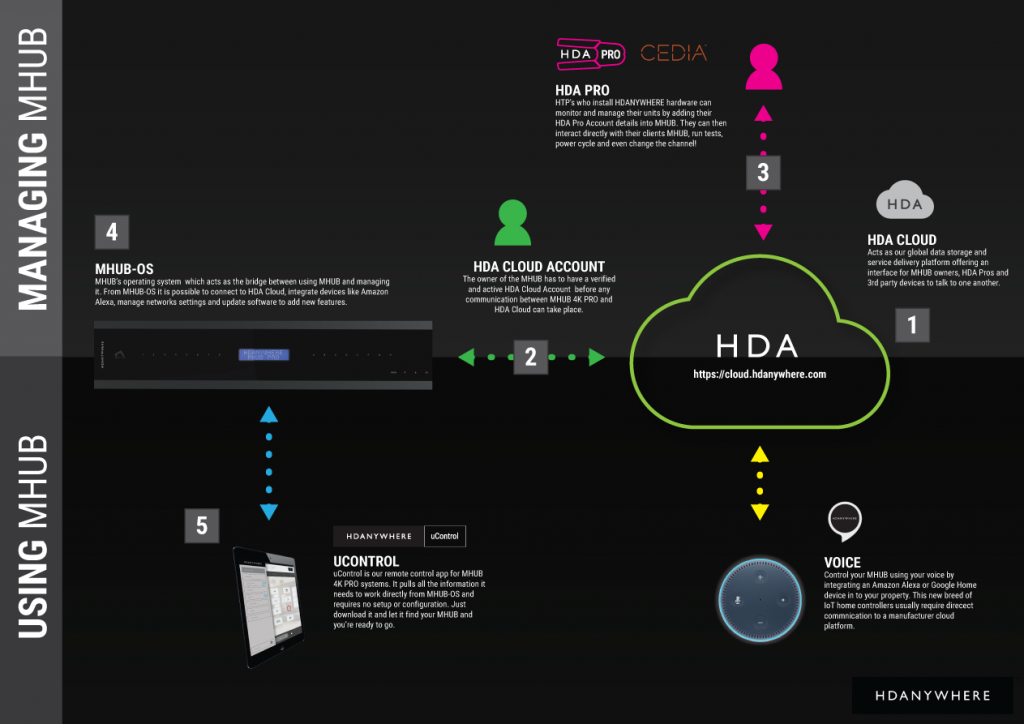 1. HDA Cloud
The HDA Cloud acts as our global data storage and service delivery platform offering an interface for MHUB owners, HDA Pro's and 3rd party devices to talk to one another.
There are two types of cloud account that can be associated with an MHUB system.


2. HDA Cloud Account
The HDANYWHERE (HDA) Cloud account is the account that belongs to the Homeowner and/or End-User. The owner of the MHUB has to have a verified HDA Cloud account before any communication between MHUB systems and the HDA Cloud can take place.
Registering the MHUB system provides numerous benefits including:
Extending the warranty period on the system by 1 year (must be registered within 30 days of purchase, Warranty is non-transferable)
Enables advanced functions for things like voice control, uControl, integration with other IoT devices and Sequences
Provide advanced troubleshooting information to your HDA Pro installer and HDA
Provide your HDA Pro installer permission to remotely manage your system, they can then modify your system for you without physically being there
3. HDA Pro Account
The HDA Pro account can not be added to a unit unless a HDA Cloud account (outlined above) is present first. This account authorises the installer to monitor the MHUB on their customer's (the homeowner) behalf. This account sits alongside the Cloud account and gives a 3rd party access to the MHUB's data and the ability to control it. HDA Pro's can register Here
The following Settings can be managed remotely:
Source Routing (and switching)
Edid management
uControl sequence configuration
uControl IR pack configuration
Power management

You can also monitor the following:

IP configuration
Temperature
Firmware (MHUB-OS, and MHUB)

IMPORTANT: a HDA Pro Account has to be created first Here and authorised by HDA staff before the installer can use their account details to enable monitoring on the MHUB.
MHUB's operating system which acts as the bridge between using MHUB and managing it. From MHUB-OS it is possible to connect to HDA Cloud, integrate devices like Amazon Alexa, manage network settings and update software to add new features.
uControl is our remote control app for MHUB 4K PRO systems. It pulls all the information it needs to work directly from MHUB-OS and requires no setup or configuration. Just download it and let it find your MHUB and you're ready to go.